Honey Badger Medium Flipper Knife: Black or Orange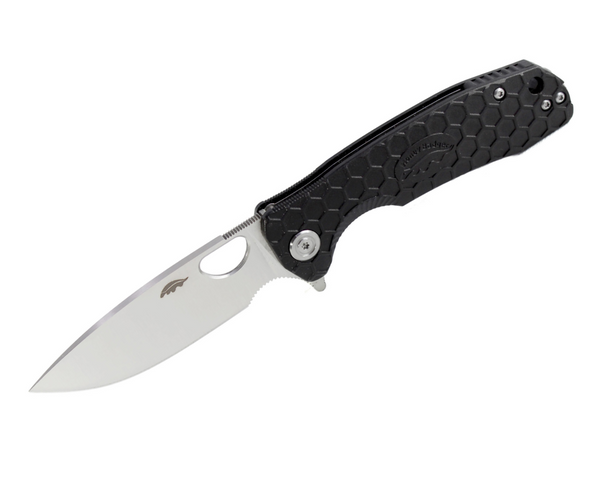 Honey Badger Medium Flipper Knife: Black or Orange
Honey Badger's frictionless opening and closing action, facilitated by two opposing roller bearings containing a total of 18 ball bearings. Very few knives ever achieve such an immaculated action, and makes using them a real pleasure.
One of the most common and popular blade shapes, the drop-point is characterized by a convex spine that curves down from the handle to the point. This creates an easily controlled point and a bigger belly for slicing. Drop points are great for general-purpose use and ideal for hunters. Overall, this blade style has been Honey Badger's most popular, best-selling model.
Superbly designed to be tough.
Features:
• Honeycomb pattern for multi-directional grip
• Light and Slim
• Resistant to slipping even if wet
• Fits ergonomically in the hand
• 8Cr13MoV Stainless steel blade
• Handle FRN (Fibre Reinforced Nylon)
• Reversible pocket clip
• Opening: One-Handed Ambidextrous Opening, Dual Thumb Studs
• 10-year warranty
Specifications:
• Weight: 4.938 oz / 140 g
• Overall Length: 7.283 in / 18.5 cm
• Closed Length: 4.094 in / 10.4 cm
• Blade Thickness 0.12 in / 0.3 cm
• Colour: Black or Orange
Accepted Payment options
- Visa
- Mastercard
- American Express
- Visa Debit
- Bank Deposit