Buck Gardner Goose Call 'Grey Ghost' Acrylic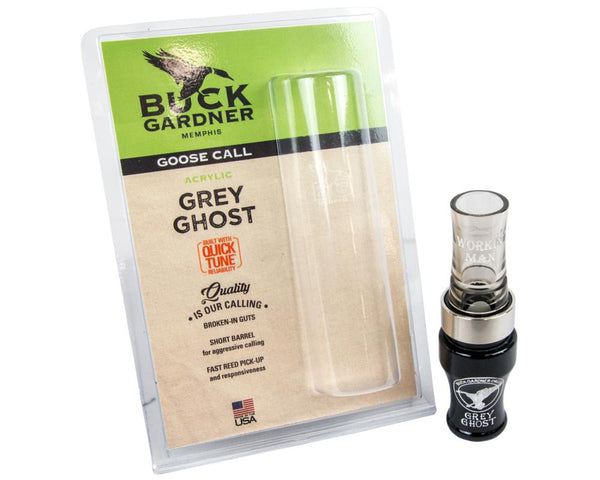 Buck Gardner Goose Call 'Grey Ghost' Acrylic

Single Reed Acrylic Ghost Call

FEATURES:
• Loud volume
• Wider tonal range over double reed
• Variety of colours with a superior finish.

The Grey Ghost is designed with a shorter barrel and shorter insert geared for more advanced goose callers. It produces lighting fast double-clucks and has a higher pitch for loud, ringing honks that stand out from the crowd when hunting pressured birds. The broken-in guts and shaved reed are super-responsive and pick up with minimal air pressure.

To ensure quality and performance, Buck Gardner build, tune, and test each call one at a time by hand at their shop in Memphis, TN.
From Buck Gardner website: We stand behind our products 100% and all of our calls are backed by our Lifetime Warranty. This guarantee covers defects in materials, quality, and workmanship for as long as you own the call. We will repair or replace the call or its components at our discretion and get your call back in the field as fast as possible

Acrylic calls offer consistent density with excellent acoustic qualities. The harder surface composition gives the call a sharper resonating sound. The material comes in a variety colours and can easily be polished, making for very beautiful calls. Acrylic material is more expensive for manufacturers and requires precise machining processes, so it also makes for a more expensive finished product.
Single reed calls offer a broader range of volume and tone, but they typically require better air control and correct tongue pressure on the part of the caller. Simply put, a single reed call is more versatile but requires solid mechanics. Single reed calls can normally get louder than double reed calls can.

In a nut shell:
• Louder than double reed calls
• More tonal range
• Better for more experienced callers
Accepted Payment options
- Visa
- Mastercard
- American Express
- Visa Debit
- Bank Deposit