Buck Knives 283 Nano Bantam & 285 Bantam BLW Knife Combo: Kryptek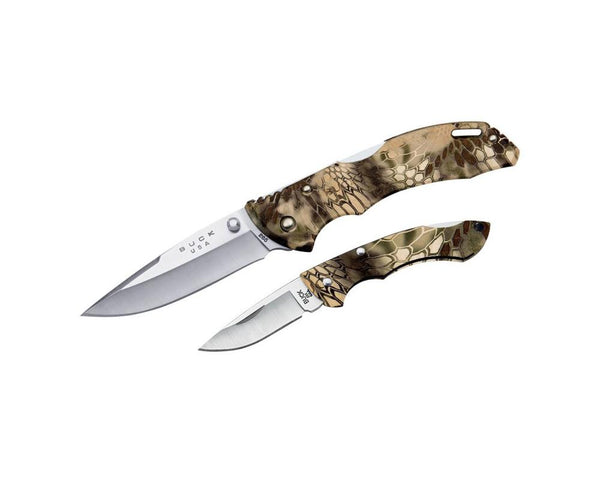 Buck Knives 283 Nano Bantam & 285 Bantam BLW Knife Combo
283 Nano Bantum Knife
The Buck Knives 283 Nano Bantum Pocket Knife was designed with you in mind. The Nano Bantum can fit virtually into any carrying configuration - key rings, pockets, backpacks or lanyards. With a modern take on the classic lockback design, this knife has a contoured handle for easy handling. 
Features:
• Lockback: Lockback folding knives have a mechanism that lock the blade in the open position, activated by opening the blade all the way. A lock back gets it name from a rocker (rocking lcok bar) partially visible on top of the knife. Opening the blades causes the rocker to lock against the blade so it locks open. Pushing down on the rocker on top of the handle releases it and enables the user to close the blade. Lockback requires two hand closing, though some are one hand openers. 
• Paul Bos Heat Treat: Buck is known for their blades. Buck Knives is a market leader in edge retention thanks to their steel selections and heat treat process pioneered by industry famous, Paul Bos, whose heat treating system has proven to be the best in the business. Each blade is put through a rigorous heat treat process and quality performance test. It is then tempered to the appropriate Rockwell Hardness through a heating, freezing, and reheating system. This gives you longer edge life, ease of resharpening and a blade that will not fail you. 
• 420HC Steel: Buck's standard blade material because it approaches the wear resistance of high carbon alloys while delivering the corrosion resistance of chromium stainless steels. Add their exclusive heat-treat process and you have a very user-friendly combination of superior corrosion resistance with excellent strength for wear resistance and durability. You also have a blade that is easy to resharpen. For best performance, Buck harden the knives to a Rockwell hardness of Rc 58.
• Drop Point: This blade is full bellied with a strong, thick point for heavier tasks. It can also be used as a general work knife. The top of the blade drops down toward the tip, which minimizes accidental puncturing while skinning. The drop point blade is strong and very versatile. 
Specifications:
• Blade Shape: Drop Point
• Blade Thickness: 0.072"
• Blade Length: 1 7/8" (4.8cm)
• Closed Length: 3"
• Weight: 0.6 oz (17.1 g)
• Handle: Glass reinforced textured nylon
• Carry System: Key chain
• Colour: Kryptek
Accepted Payment options
- Visa
- Mastercard
- American Express
- Visa Debit
- Bank Deposit