Garmin Alpha 200i & TT15X Collar Package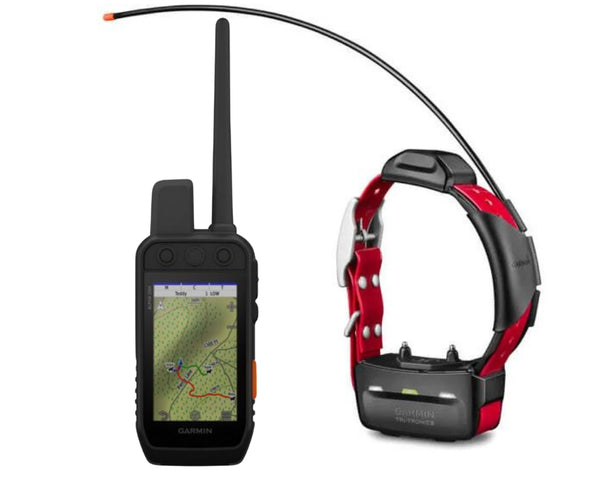 Garmin Alpha 200i & TT15X Collar Package

The Alpha 200i dog tracking and training system lets you monitor up to 20 dogs from up to 9 miles (depending on dog device) on a 3.5" display with a 2.5-second update rate. Easily control training functions by using the button-operated, dog-focused design.

You'll also have access to premium Garmin navigation features, such as preloaded TopoActive maps, BirdsEye Satellite Imagery with direct-to-device downloads and built-in three-axis compass and barometric altimeter. Now, inReach® technology adds twoway messaging and interactive SOS alerts for peace of mind while you're in the field.
LARGE 3.5"DISPLAY WITH SIX-BUTTON DESIGN
Features sunlight-readable 3.5" capacitive touchscreen display and a button-operated, dog-focused design for
quick, minor adjustments 
TRACK YOUR PACK Monitor up to 20 dogs from up to 9 miles (depending on dog device) with a 2.5-second updaterate
DOG LIST AND GROUP MANAGEMENT Dog list and group management lets you keep inactive dogs in the system for easier setup

INREACH® TECHNOLOGY Interactive SOS alerts and two-way messaging via the 100% global Iridium® satellite network (satellite subscription
required)

MULTI-GNSS SUPPORT Access multiple global navigation satellite systems (GPS and Galileo) to track your pack with greater accuracy than GPS alone

TOPOACTIVE MAPS Our preloaded TopoActive mapping provides detailed views of terrain contours, topographic elevations, summits,
parks, coastlines, rivers, lakes and geographical points

BIRDSEYE SATELLITE IMAGERY Download BirdsEye Satellite Imagery directly to the handheld for better-than-real-life views of your route, trailheads,
clearings and more

NAVIGATION SENSORS A barometric altimeter helps you accurately monitor ascent and descent and see short-term trends in air pressure,
and the built-in tilt-compensated three-axis electronic compass keeps your bearing — whether you're moving or not

TRAINING OPTIONS (TT™ 15/ TT 15 MINIONLY) When paired with TT™ 15 tracking and training collars, you will have access to 18 levels of continuous and
momentary stimulation, plus vibration and adjustable tones

FEDERAL PUBLIC LAND BOUNDARIES
Optional display of federal public land boundaries on topographical maps shows Bureau of Land Management,
National Parks and Wilderness so you know that you're venturing where you're supposed to be

HUNT TIMER FUNCTION Use the convenient timer mode during hunting competitions or field trials; get quick access to the timer with the new
user-configurable buttons

PRO VIEW COMPASS The pro view compass mode gives you simple, at-a-glance tracking that shows which direction and how far away
your dogs are, plus you will see when a dog is "Treed" or "On Point"

GARMIN EXPLORE™ Compatible with Garmin Explore website and app to help you manage tracks, routes and waypoints and review statistics from the field

ADDITIONAL MAPPING The microSD™ card slot allows you to load more mapping options, such as TOPO Australia and New Zealand. 24K
and Garmin HuntView™ Plus maps (sold separately)

GARMIN ECOSYSTEM Track your pack from the road, your wrist and other ways, thanks to wireless connectivity with compatible Garmin
devices, such as the Garmin DriveTrack™ 71 GPS navigator, fēnix® 6 GPS watches andmore

BACKWARD COMPATIBLE Backward compatible so you can keep your existing collars and other Alpha compatible devices; transfer location
data between compatible Garmin devices

LONG-LASTING BATTERY Replaceable battery lasts up to 20 hours, or up to 15 hours with inReach technology enabled
PRODUCT NUMBER: 010-02230-53

 
The TT 15X dog tracking and training device has a top-mounted, high-sensitivity GPS and GLONASS receiver, so you can track your dog from up to 14.5 km away. Rugged and water-resistant to 10 metres (1 ATM), it's tough enough to run wherever your dog runs. Plus, with up to 80 hours of battery life and sleep mode to remotely put the device to sleep, you can focus on the hunt instead of the next charge.
TT 15X features 18 levels of continuous and momentary stimulation plus audible tone and vibration when used with your compatible tracking and training handheld.
LED beacon lights, activated from your compatible handheld, help keep track of your dog in the field. Visible up to 90 metres away, the lights work in low-light conditions and at night.
TT 15X ships with a 1″ red collar strap.
 Specifications:
• Unit dimensions (WxHxD): 3.50″ x 1.75″ x 1.85″ (8.90 x 4.40 x 4.70 cm)
• Weight: 7.30 oz (207 g) for transmitter and antenna (without collar); 10 oz (284 g) total weight (with collar)
• Battery type: Rechargeable lithium-ion pack; user-replaceable
• Battery life: Up to 80 hours
• Range: 14,5 kilometres
• Interface: USB
• Water rating: 1 ATM (10 metres)
• Neck size: Minimum of 9.5″ (24 cm) in circumference
• High-sensitivity GPS/GLONASS receiver: Yes
• GPS antenna: Top, black
• Stimulation/Vibration/Tone: Yes
• LED beacon lights: Yes
• Sleep mode: Yes
• Rescue mode: Yes
• Frequency mode: MURS
• Replaceable collar straps: Yes
• Collar compatibility: 1″ (2.54 cm)
• Software updates: Via Garmin Express™ software, available for both Mac® and Windows®
Contents:
• TT 15X dog device with rechargeable lithium-ion battery pack
• 1″ red collar strap
• 18.5″ standard antenna
• 22.5″ extended-range antenna
• Charging cable
• AC adapter
• Vehicle power cable
• Contact point set with spanner
• Documentation
Accepted Payment options
- Visa
- Mastercard
- American Express
- Visa Debit
- Bank Deposit