Guide TD430 Thermal Monocular | 400 x 300 Detector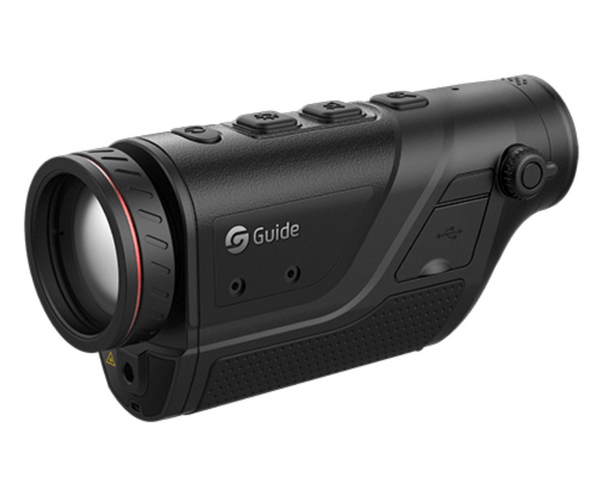 The Guide TD Delphinus Series follows the design of traditional optical equipment. It is small, lightweight, with simple operation and can handle a wide range of scenarios. TD Thermal scope has clear imaging and comfortable observation, suitable for medium distance and short-distance observation, It is the ideal equipment for outdoor night vision.
Features:
• Lightweight body, which can be controlled by one hand
• High-sensitivity self-developed VOx infrared detector provides clear and detailed thermal images
• PIP mode for highlighting the target
• 5 different viewing color palettes
• Full-color HD display
• Share in real time via WIFI
• One-click switch between three scene modes
• Clear viewing distance at 200m
•  With IP66 protection level and 1-meter drop test, it can handle the elements. 
Infrared detector
• Detector type: VOx
• Detector resolution and pitch: 400 x 300, 12 μm
• Spectral range: 8 to 14 μm
• NETD: ≤50 mk
• Frame rate: 50 Hz
Lens
• Focal length: 35 mm; F1.0
• Focus: Manual
• Field of angle: 7.5°×5.6°
• Optical zoom: 3.4x
• Digital zoom: 1x, 2x and 4x
Display
• Display type: 0.4" FLCOS 
• Resolution: 1280x 960
• Eyepiece: Monocular, exit pupil distance≥10 mm, diopter adjustment: -4 to+2
• Eyepiece zoom: 13.8x
• Video output: Analog video
Power
• Battery type: Single, replaceable 18650 battery
• Battery life: ≥ 7 hours
Interface
• USB: Type C, (USB 2.0 standard), supporting power supply and data access
• Video interface: micro HDMI
• External expansion: External Display and Bluetooth remote control
• Mechanical interface: UNC ¼"-20 (Tripod mounting), Mechanical expansion interface
Functions
• PIP: Upper left, Upper middle, Upper right, Closed
• Scene modes: Enhanced, Highlight and Natural
• Ultra power saving mode: Turn WIFI off or reduce the screen brightness level
• WIFI: Transmission of real-time video via WIFI for remote control in the 2.4G frequency band and within 15 meters
• Color palettes: Black Hot, White Hot, Red Hot, Iron Hot, Blue Hot
• Compensation modes: Automatic, shutter and scene compensation
System
• Language settings: Chinese / English / Russian / German / French
• Start up: 2 Sec
Environmental
• Storage temperature range: -30°C to 60°C
• Humidity: 10 % to 95 % non-condensing
• Shock: 30 G at 11 ms half sine pulse
• Vibration: 10 Hz - 150 Hz
• Certification: IP66, FCC, CE, RoHS, EAC, WEEE, un38.3, IEC 60825-1 Class 2
Physical:
• Weight: ≤350 g
• Dimensions: 150 × 40 × 70 mm
Range Performance

 

Size

Recognition Range

Detection Range

• Boar

0.9 x 0.7 m
450 m
880 m

• Deer

1.5 x 0.5 m
580 m
1150 m
•

 Human

1.8 x 0.5 m
700 m
1400 m

• Vehicle

2.3 x 2.3 m
1400 m
2800 m


Accepted Payment options
- Visa
- Mastercard
- American Express
- Visa Debit
- Bank Deposit