Guide Thermal Scope TS450 3-13x50 50hz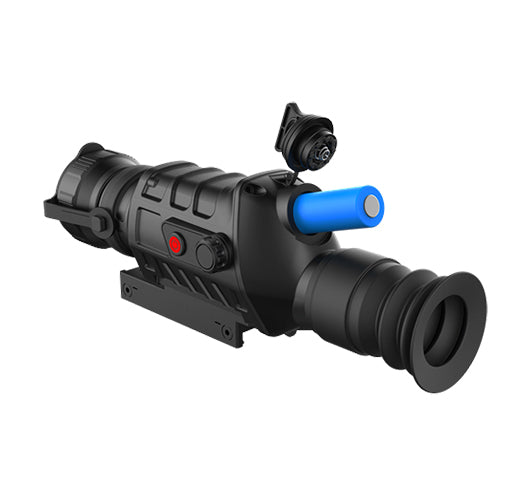 The Guide TS450 is a thermal imaging riflescope for demanding shooters who want to shoot with extreme precision over (very) long distances. The thermal riflescope has a 3x to 13x magnification and can pick up heat sources up to 1.400m. The 50hz refresh rate makes it easy to track fast moving objects. The state-of-the-art detector in combination with an OLED display results in razor-sharp images. The TS450 comes with a separate Picatinny/Weaver mounting.
Optics and display
The thermal riflescope is equipped with a 400x300@17μ 'TEC metal encapsulated' infrared detector. The environment is displayed on an amazing 1024x768 OLED display. The 50hz refresh rate provides real-time images. The TS450 features a large 50mm lens with 3.3x magnification. You can enlarge it up to 6.6x and 13.2x with a digital zoom (and also Picture-in-Picture). You can focus on the surroundings as you like using the focus ring.
Focusing and zero setting
In order to follow targets easily and shoot with extreme precision, you can use 10 different crosshairs (see images on the right). You can set the colour of the reticle in black or white. The reticle can also be switched off. The 'zero' can easily be set and saved from the main menu. In total you can save 6 different zero settings.
Observation modes
You can select seven thermal colour pallets: White Hot, Black Hot, Red Hot 1/2/3, Green Hot and Blue Hot. Additionally, the Hot Track function allows you to "mark" the hottest object on the screen with an indicator. This makes finding and tracking targets easier than ever. You can also adjust the contrast of the environment to your own preference.
Stadiametric rangefinder
The rifle scope is equipped with a stadiametric rangefinder, which allows you to calculate the distance to an animal of known size (e.g. hare, boar or deer). This function can be used for objects with a size of 1.8m / 0.5m / 0.25m.
Reliability properties
The thermal rifle scope is resistant to recoil of 500G/1ms. The TS450 is also IP67 certified (water and dustproof and therefore suitable for all types of weather). You can power the device with one 18650 battery, which you can quickly and easily insert into the device. This allows you to use the rifle scope for up to 5 hours. A rechargeable 18650 battery and charger are included as standard.
Application Guide TS450
This thermal riflescope is ideal for hunting, shooting or airsoft. The Guide TS450 is mainly aimed at the demanding user who wants to shoot at longer distances. With the help of a video cable (included) you can display the images in real-time on a monitor. At the optional accessories you will find some waterproof, fully-certified transport cases and weapon cases.
Included:
1x Thermal Imaging Rifle Scope (50mm lens)
1x Picatinny rail mount
1x Plastic carrying case with pluck foam
1x Lens cap
1x Battery charger with EU-type AC adapter (for 2x 18650 Li-ion battery)
1x 18650 battery (2200mAh)
1x Video-out cable
1x User manual
1x Warranty certificate
Brand: Guide
Type: Monocular (for 1 eye)
Detector type: 400x300 TEC metal encapsulated (17 micron)
Display quality: 1024x768 OLED (full-color)
Thermal sensitivity: 50- 59 mm
Type connection: 0mm
Refresh Rate: Targeting, Scouting (reticle off), Picture-in-Picture (PiP)
Type of image focus: Manual Focus, Auto-focus (separate mode)
Field of view: 7,5 x 5,6 degrees
Detection distance: 1,400m
Other functionalities: Adjustable contrast, Adjustable brightness
Color palettes: White hot, Black hot, Red hot 1/2/3, Green hot, Blue hot
Usage time: 3 to 5 hours
Charging time: 50 Hz
Recording Functionality: No (but with video-out connection)
Measuring range temperature: 3,3x / 6,6x / 13,2x
Temperature accuracy: White, Black
Weight: 720 grams
Dimensions: 250 x 90 x 75mm
Mounting system: Picatinny
Power supply: 1x 18650 battery (battery + charger included)
Working Temperature: -40°C to +50°C
Water and impact resistance: IP67
Warranty: 2 years
Accepted Payment options
- Visa
- Mastercard
- American Express
- Visa Debit
- Bank Deposit