Guide Track IR Pro Hand-Held Thermal 35mm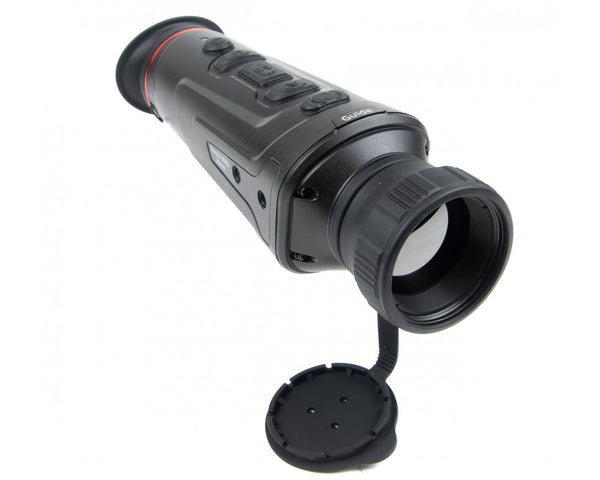 TrackIR Pro series is Guide's new launched handheld thermal imaging monocular designed for professional hunters. With a 640x480 IR sensor and 1280x960 HD display, it provides adaptable and excellent thermal imaging in any conditions. Support smooth zoom, built-in stadiametric rangefinder, image quality adjustment, picture-in-picture functions. At a high frame rate of 50Hz, TrackIR Pro captures sharp thermal imaging throughout dynamic and rapid motion in distance. It also supports connecting accessories to realize more functions.
Features:
• Super concealment for professional hunters: work indicator can be shut down, anti-light-leakage eyepiece, super silent button, and noiseless shutter calibration
• Excellent ergonomic design: intuitive buttons can be quickly recognised by touching even in total darkness. Modern streamlined appearance and ergonomic design, TrackIR allows you to observe the target for a long time without fatigue
• Full colour 0.4" HD display with 1280 x 960 pixels gives crisp and delicate images improving the observation comfort
• Smooth zoom
• Built-in stadiametric rangefinder: accurately measures the ranging of observed objects with known height
• User-friendly UI and powerful mobile app: the thermal monocular and app support settings such as image quality adjustment, colour palettes switching, smooth zoom, hot spot tracking Wi-Fi and more
• Multiple scene modes: seven modes of "enhance/highlight/forest/desert/snow/city/default" can be switched by one button and the image can be adaptively adjusted for different scenes to highlight the target
• IP66 rugged, durable and quality guaranteed: IP66 protection level, 1 m drop test, suitable for all kinds of harsh weather
• 6000mAh large capacity battery for longer working time
• 2 Year warranty

A fantastic alternative to Pulsar - with faster connectivity and stronger wifi to mobile signal.

View on your mobile device with the Track IR App
iOS: https://apps.apple.com/nz/app/track-ir/id1443442980
Android: https://play.google.com/store/apps/details?id=com.guideir.app&hl=en
Specifications:
• Detector Type: 640 × 480 @ 17μm, 8μm ~ 14μm, NETD ≤ 50mk
• Focal Length: 35mm/F1.0  
• Focusing: Manual Focus
• FOV: 12.5° × 9.4°
• Screen: 1280×960, 0.4" Colour LCOS Display (Feel like watching 22-inch screen at 1m)
• Eyepiece: Monocular, Exit pupil≥10mm, Adjustable diopter-4~+2
• Magnification: 2-16x  
• Frame Rate: 50Hz
• Digital  Zoom 1X~8X (Smooth zoom)
• Color Palettes  White Hot, Black Hot, Red Hot 1, Red Hot 2, Red Hot 3 (track IR pro has adjustable red dot)
• Scenes Modes  Enhanced, Highlight, Forest, Desert, City, Snow, and Default (indoor) 
• Picture-in-picture enlarged image is displayed on the upper left, upper-middle or upper right
• Main Functions: Photo and video, Wi-Fi, hotspot tracking, stadiametric rangefinder, image enhancement, brightness and contrast of image are adjustable, auto power-off, auto sleep, super power-save mode, the work indicator could be shut off
• Compensation Modes: Auto Compensation / Shutter Compensation / Scene Compensation
• Indicate Box: Red,/yellow/green, the coordinates of the indicate box is adjustable
• Memory Card: 16 GB
• Battery Type: Internal Li-ion battery (2x18650, 6000mAh) 
• Battery Operating Time: ≥4.5h
• Video Output: Micro HDMI
• External Connection: External Connection by a Picatinny rail
• Operating Temperature: -10℃~50℃
• Storage Temperature: -30℃~60℃
• Encapsulation: IP66, 1-meter drop  test
• Weight: 560g    
• Dimensions: 214mm × 65mm × 71mm  
• Package Contents: Power adapter / USB cable / Micro HDMI cable / Lens cover /   Wrist strap / Lining package / Quick Start Guide

Detection Range:
• Human - 1.8m×0.5m: 1400m    
• Vehicle - 2.3m×2.3m: 2800m    
Recognition Range
• Human - 1.8m×0.5m: 700m    
• Vehicle - 2.3m×2.3m: 1400m.
Accepted Payment options
- Visa
- Mastercard
- American Express
- Visa Debit
- Bank Deposit