InfiRay CH50W Clip On Thermal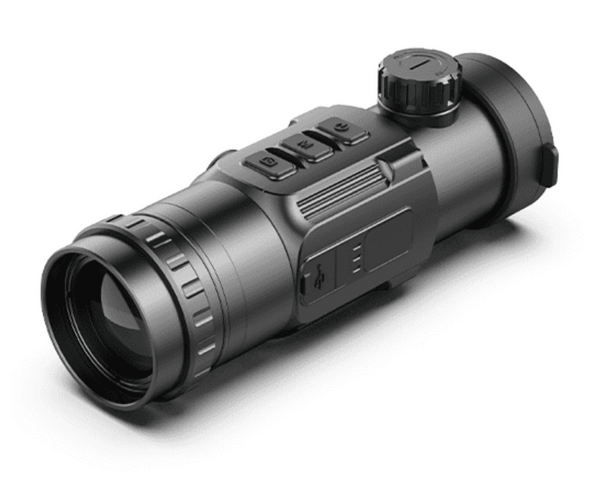 Clip CH50W is a top-end front attachment designed as the infrared expansion device of the day scope. In addition to retaining the advantages of clear image quality and no need to re-zero, CH50W also adds Wifi, photo and video functions. CH50W is featuring with precise aiming, ultra-clear imaging and complete functions. Start your adventure with CH50W, turning your day riflescopes into powerful thermal imaging aiming systems.
The unit adopts a 12μm 640×512 resolution thermal sensor with NETD ≤40mK and a 1024×768 OLED display to bring an innovative improvement in thermal imaging quality which ensures perfect detailed recognition even in the hardest weather conditions.
The built-in ultra-clear mode brings a more detailed view and enhanced object recognition, makes the image more delicate.
With the special calibration of the CH50W, there is no need to re-zero after mounting to the day scope. Clamp and Shoot, that's it.
CH50W supports gun-type selection corresponding to different UI interface switching, which is better compatible with day sights with different magnification ranges.
G1 and G2 are recommended magnification of the day sight for 1×-4×, while G3 and G4 for 5×-9×.
Clip CH50W features a simple connector arranged to make the hunt easier on set. The Bluetooth remote controls are very straightforward and almost identical to their predecessor which put the operation of the CH50W at your fingertips.
With IAR-adapter mounts, the durable and compact CH50W can be easily attached to or detached from day optics in seconds to set up for handheld or mounted devices, so you can focus on shooting, not the imager.
The CH50W supports Wifi, photo and video functions. The onboard 32GB internal memory handles recoil flawlessly and stores hours of video or thousands of photos.
Specifications:
Model CH50W
Detector Type VOx Uncooled
Resolution 640×512
Pixel Size, μm 12
NETD, mK ≤40
Frame Rate, Hz 50
Objective Lens, mm 50
Field of View 8.8°×7.0°
E-zoom ×1/×2/×4
Detection Range, 2597m (Target size: 1.7m×0.5m, P(n)=99%)
Display 1024×768 OLED
Battery CR123×2/16650x2
Max. Battery Life, h 4/7
USB Interface Type-C
IP Rating IP66
Remote Control Bluetooth
Amount of built-in memory, GB 32
Weight (without batteries) , g<590
Dimension, mm 175×74×68
Adapter Ring M52×0.75
Accepted Payment options
- Visa
- Mastercard
- American Express
- Visa Debit
- Bank Deposit