InfiRay M6T25 Dome Thermal Camera *Vehicle Mountable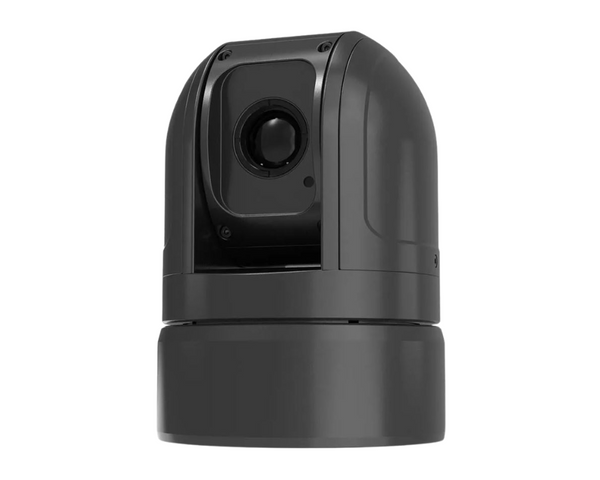 The M6T25 is a gyroscopic stabilized roof mounted dome camera suitable for most vehicles. The InfiRay M6 Series Thermal Imaging Dome Camera system is designed to be mounted on a vehicle (or ATV) for outdoor Search & Rescue, Law Enforcement and Commercial or Recreational Hunters! Remotely control the M6 for precise movement or automated tracking via the InfiRay App or the optional Joystick Keyboard. Imagery can be viewed through a wireless connection via the App or hard-wired to an optional display screen.
FEATURES:
• Thermal imaging camera
• 64GB internal storage
• Sensor res – 640×512 12μm
• 360º Continuous rotation
• Laser rangefinder
• Up to 8 preset points
• Controlled by included vehicle interior screen
With the high-resolution thermal imaging core, the M6 Series gives you greater detail & clearer pictures.  The camera is gyro stabilized for that enhanced user experience when on the move, especially travelling off-road.  The mounting system is designed for quick installation utilizing the included suction-cup system or securely installed on the included bracket.
SPECIFICATIONS:
Model    M6T25
Resolution, pixels    640×512 VOx Microbolometer
Pixel Size, μm    12μm
NETD, mk    ≤50mk
Frame Rate, Hz    50
Lens Focal Length, mm    25
Field of View    17.5° × 14.0°
Imaging Range    ≥3 mtrs
Digital Zoom    1x / 2x / 4x

CAMERA    
Azimuth Range    360° continuous rotation
Pitch Range    -90° ~ 90°
Motor    Brushless motor direct driving, without transmission mechanism,
with low noise and stable performance
Number of Preset Points    Up to 8
Auto Cruise    Trace: Cruise in the order of present points
Gyro Stabilization    Azimuth and pitch two-axis gyro stabilization supported
FEATURE FUNCTIONS    
Laser Pointer    Yes
Laser Rangefinder    Yes
Power Supply    12v DC
Power Consumption    Normal 8.4W (Peak 24W)
WiFi & Ethernet    Supported
Network Video Output    Browser Page output & H.264 network video stream supported
Analog Video Output    PAL analog video output
Onboard Storage    64Gb
Control    RS485 PELCO-D protocol and network control interface (InfiRay App supported)

ENVIRONMENTAL / PHYSICAL PARAMETERS    
Window Defrosting    Automatic defrost depending on the ambient temperature after setup
Operating Temperature Range    -20° ~ 60°C
Waterproof Grade    IP56
Dimension    188mm high (133mm diameter)
Weight    ~2kg
MOUNTING    
Suction Cup    Supported
Fixed Mounting    With mounting bracket
Warranty    3 Year Manufacturers Warranty
Product manual here: 
Accepted Payment options
- Visa
- Mastercard
- American Express
- Visa Debit
- Bank Deposit