InfiRay Thermal Monocular Eye E2N V2 13mm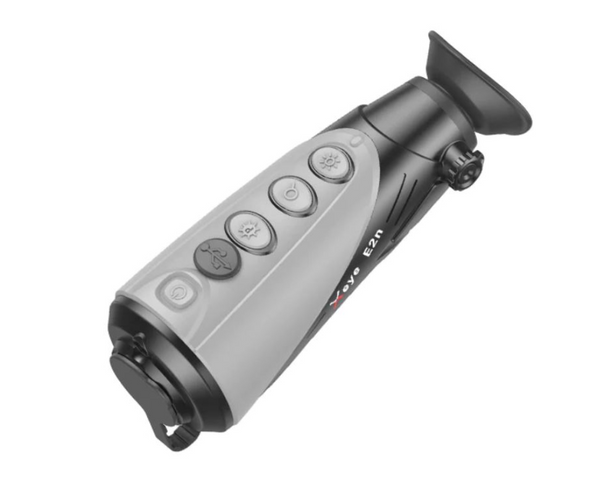 The Eye thermal series are embedded with InfiRay's independently developed high performance VOx detector which allows you to get high detailed thermal images, to enhance easiness of identification in complete darkness.
The Eye e2n is comprised of advanced software algorithms which are designed to increase imaging clarity and overall image detail which results in a sharper, more detailed field of view and enhanced object identification capabilities.
The compact & elegant design and easy operational functions make the Eye series thermal imaging monocular the ideal vision enhancement tool in darkness.
Quick Start-Up Time
3s start-up time makes the Eye Series be quickly activated when the right time comes, which helps to save energy and extend the working hours.
Sufficient Operation Time
Low power elements used in Eye Series provide sufficient operation time. Up to 20 hours operational battery life guarantees you don't have to worry about the power supply.
Pocket-Sized Thermal Vision Monocular
The InfiRay EYE series is a pocket-sized thermal vision monocular for exploring the outdoors—at night and in lowlight conditions. EYE reveals your surroundings and helps you see people, objects and animals over hundreds meters away. Simple to use, with still image and video recording, EYE is the perfect companion, whether in the back country or your own backyard.
Standby Function
When it is necessary to temporarily stop observation the user can apply standby function. It provides the necessary level of camouflage (no light from the eyepiece of the device) between observation sessions as well as the fast restart of observation (when display is turned off, all other systems are working; for normal operation it is enough just to power on the display again).
Compact Size And Lightweight
Compact size and lightweight becomes important in outdoor using, which ensure the highest level of comfort and usability.
5 Color Palettes
The Eye series provides more than 5 color palettes for true colorized temperature mapping, including "white hot" "black hot" "red hot" "color" and "hot target highlight". Switching between different color palettes is fast and easy.
Picture-in-Picture Function
Picture-in-Picture Function improves accuracy by providing a 2x magnified image of the reticle area at the top of the display. It helps to magnify the target while retaining the rest of the field of view visible.
Specifications:
• Detector, pixels: 256x192
• Pixel Size: 12 μm
• NETD: <40 mk
• Frame Rate: 25 Hz
• Objective Lens: 13 mm
• Field of View: 13.5° x 10.1°
• Display: 720 x 540 LCOS
• LED Light : Yes
• Digital Zoom: 2x 
• Max Runtime(@ 25°C indoors): 20 hrs
• Recommended Temperature Range: -10°C to +50°C
• Detection Range: 675 m
• Dimensions: 160 x 62 x 62 mm
• Weight: <320g
*For Detection Range the size of the target at 675 m was 1.7 x 0.5 m.
Accepted Payment options
- Visa
- Mastercard
- American Express
- Visa Debit
- Bank Deposit