InfiRay ZH50 Thermal Monocular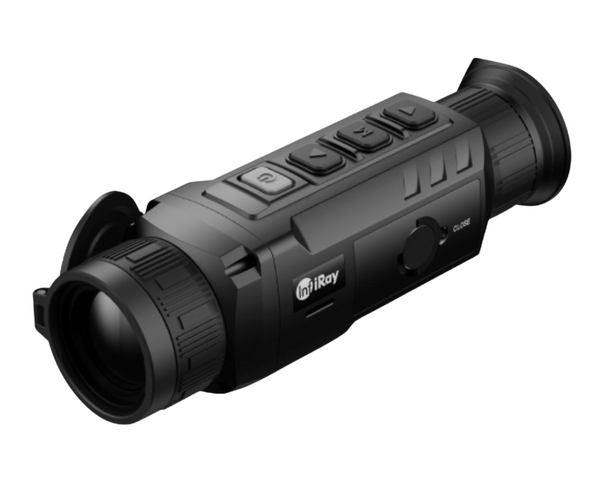 Zoom ZH50 is a high-end thermal imaging monocular for outdoor. It has greater magnification and keeps three unique technologies of ZOOM series: Dual Field of View, 1440×1080 HD Resolution and Shutterless Calibration Technology.
With the ZOOM's patented dual-field-of-view design, observers can seamlessly switch between a wide field-of-view (FOV) for detection, and a narrow FOV for target identification. It could be extensively used for night hunting, observation and terrain positioning, search, rescue, and more.
The wider FOV with a focal length of 25mm can be used for target search while the narrower FOV with a focal length of 50mm can be used for target identification.
The detection distance can reach up to 2.6km. With F-number 0.88/1.1, imaging clarity can be lifted to a new level.

Using 1440×1080 FHD OLED display, the observation effect is more excellent. And the 20×magnification eyepiece makes the target search more accurate and the observation distance is longer.

The shutterless core module is adopted to nullify the shutter calibration, simplify the operation.
ZH50 is equipped with uncooled VOx 12um 640×512 high resolution sensor featuring NETD ≤25mk (25°C, F#=1.0). With the powerful sensor and image algorithm, better image quality is provided. Even in heavy fog and rain, the built-in ultra clear mode can also result in clear imaging through a more detailed field of view and enhanced object identification capabilities.

Using low-power components, lower power consumption, with a standard additional battery pack and a replaceable 4400mAh large-capacity lithium battery pack, battery life up to 20 hours.
ZH50 is built with memory of 32GB which can support to store video and pictures. Built-in WiFi module supports APP connection and media transmission.

For different hunting environments and personal habits, ZH50 provides more than 5 color palettes, including "white hot" "black hot" "red hot" "color" and "hot target highlight".  Switching between different color palettes is fast and easy.
Specifications:
ZOOM Series    ZH50    
Detector    Type    Uncooled VOx
Resolution    640×512    
Pixel    12μm
NETD    ≤25mK
Frame Rate    50hz
Optical    Objective Focal Length    25/50mm    19/38mm
F-number    0.88/1.1    
Magnification    2.2x ~ 17.6x    
Digital Zoom    1x/2x/3x/4x
Exit Pupil Distance    20mm
Exit Pupil Diameter    5.5mm
Diopter    -5 ~ +5
Display    Type    AMOLED
Resolution    1440×1080
Dimension    0.4″
Battery    Type    Lithium-ion
Capacity    4400mAh
Service Voltage    3V~4.2V
External Voltage    5V (Type C USB)
Physical Specs    Operating Time    10h
Internal Storage    32GB
Operating Temperature    -20℃~+50℃
Weight    650g    
Dimension    195×65×60 (mm)
Accepted Payment options
- Visa
- Mastercard
- American Express
- Visa Debit
- Bank Deposit