Leatherman Charge+ Multi-Tool Stainless Steel with Nylon Sheath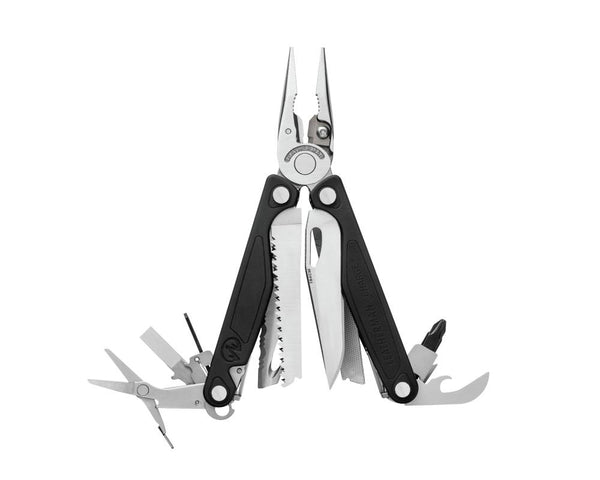 Leatherman Charge+ Multi-Tool Stainless Steel with Nylon Sheath: 19 Tools
Every tool on the ultra-useful Charge Plus makes it adventure-worthy The Leatherman Charge Plus is a revamped version of the Charge, combining the features of the previous AL and ALX models and upgraded with replaceable wire cutters.
While previously the AL model featured scissors and the ALX model featured a cutting hook, the Charge Plus has both tools along with 17 other useful tools. The scissors slice through anything, the wire cutters are made in a durable material and are replaceable. Need an extra hand? No problem. Every tool can be opened and locked with just one hand. 
Taking the idea of a multi-tool up a notch, the Charge Plus is finished with 6061-T6 aluminium handles and a strong, corrosion-reistant 154CM steel knife blade. It is supplied with a 9 piece bit-kit - 7 in the bit storage case and 2 in the bit drivers, and a removable pocket clip.
Features:

• All locking blades and tools: Every tool and knife on the body of the handle will lock into place, providing extra safety.
• Lanyard ring: Attaches tool securely to a lanyard. Great for people who want to use their tool near water or on scaffolding
• Replaceable pocket clip: Allows you to wear your multi-tool attached to your pocket or belt loop without using a sheath
• Quick-release lanyard ring: Removable and also allowing for attachment to a lanyard
• Outside-accessible features: Knife and scissors can be accessed while the tool is folded or closed, for extra convenience
• One-hand operable features: Every tool can be opened and operated with one hand, so you can keep your other hand free
• Made from stainless steel: An improved, high-carbon (HC) form of 420 stainless steel. It's strength is optimised in Leatherman multi-tools by heat treatment
• 6061-T6 hard-anodised aluminium handle scales: Made from aero-grade alluminum alloy which is extremely durable yet lightweight.
• Bit kit: Phillips Eyeglass Screwdriver and Flat Tip, Phillips #1 and #2 Bit, Hex 1.5 mm and 2 mm, Hex 2.5 mm and 3 mm, Hex 4 mm and 5 mm, Pozi #2 and #1, Pozi #10 and #15, Pozi #20 and #25, Phillips #0 and #3
• 25-year warranty: Guarantees your Leatherman will give you many years of dependable service
Tools:
1. Needlenose pliers    
2. Regular pliers    
3. 154CM replaceable wire cutters    
4. 154CM replaceable hard-wire cutters    
5. Crimper    
6. Wire stripper    
7. 154CM knife    
8. 420HC serrated knife    
9. Cutting hook    
10. Saw    
11. Spring-action scissors    
12. Ruler (19cm)    
13. Can opener    
14. Bottle opener    
15. Wood/Metal file    
16. Diamond-coated file    
17. Large bit driver    
18. Small bit driver    
19. Medium screwdriver
Specifications:
• CLOSED LENGTH: 4 in | 10 cm
• OPEN LENGTH: 6.25 in | 15.87 cm
• PRIMARY BLADE LENGTH: 2.9 in | 7.37 cm
• WEIGHT: 8.3 oz | 235 g
• WIDTH: 1.2 in | 3.0 cm
• OVERALL THICKNESS: .76 in | 1.9 cm
• MATERIALS: 420HC Stainless Steel, 154CM Stainless Steel, 6061-T6 Hard-Anodized Aluminum
Accepted Payment options
- Visa
- Mastercard
- American Express
- Visa Debit
- Bank Deposit