Leatherman Charge+ TTI Stainless with Premium Nylon Sheath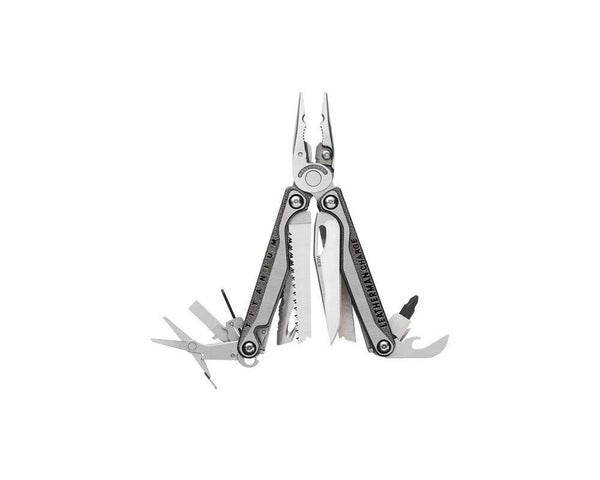 Leatherman Charge+ TTI Stainless & Titanium Multi-Tool with Premium Nylon Sheath
The Leatherman Charge TTI+ is a premium version of the Charge Plus with titanium handles which makes the tool lightweight and strong, and has an ultra-sharp S30V steel knife blade to resist corrosion.
Replacing the Charge TTi, the Charge + TTi features upgraded replaceable wire cutters. It is supplied with a 9 piece bit-kit, 7 in the bit storage case and 2 in the bit drivers.
Order today to grab a hold of one and you'll quickly see why the Charge models are the pinnacle of Leatherman's multi-tool collection.
This tool is covered by Leatherman's 25-year warranty.
Features:

• All locking blades and tools: Every tool and knife on the body of the handle will lock into place, providing extra safety.
• Lanyard ring: Attaches tool securely to a lanyard. Great for people who want to use their tool near water or on scaffolding
• Replaceable pocket clip: Allows you to wear your multi-tool attached to your pocket or belt loop without using a sheath
• Quick-release lanyard ring: Removable and also allowing for attachment to a lanyard
• Outside-accessible features: Knife and scissors can be accessed while the tool is folded or closed, for extra convenience
• One-hand operable features: Every tool can be opened and operated with one hand, so you can keep your other hand free
• Made from stainless steel: An improved, high-carbon (HC) form of 420 stainless steel. It's strength is optimised in Leatherman multi-tools by heat treatment
• Titanium handle scales: Titanium has similar properties to steel but only 60% of its density, making tools lighter for every day carry.
• Bit kit: Phillips Eyeglass Screwdriver and Flat Tip, Phillips #1 and #2 Bit, Hex 1.5 mm and 2 mm, Hex 2.5 mm and 3 mm, Hex 4 mm and 5 mm, Pozi #2 and #1, Pozi #10 and #15, Pozi #20 and #25, Phillips #0 and #3
• 25-year warranty: Guarantees your Leatherman will give you many years of dependable service
Tools:
1. Needlenose pliers    
2. Regular pliers    
3. 154CM replaceable wire cutters    
4. 154CM replaceable hard-wire cutters    
5. Crimper    
6. Wire stripper    
7. S30V knife    
8. 420HC serrated knife    
9. Cutting hook    
10. Saw    
11. Spring-action scissors    
12. Ruler (19cm)    
13. Can opener    
14. Bottle opener    
15. Wood/Metal file    
16. Diamond-coated file    
17. Large bit driver    
18. Small bit driver    
19. Medium screwdriver
Specifications:
• CLOSED LENGTH: 4 in | 10 cm
• OPEN LENGTH: 6.25 in | 15.87 cm
• PRIMARY BLADE LENGTH: 2.9 in | 7.37 cm
• WEIGHT: 8.89 oz | 252 g
• WIDTH: 1.2 in | 3.0 cm
• OVERALL THICKNESS: .76 in | 1.9 cm
• MATERIALS: 420HC Stainless Steel, S30V® , Titanium
Accepted Payment options
- Visa
- Mastercard
- American Express
- Visa Debit
- Bank Deposit