Leatherman Raptor Medical Shears: Black/Orange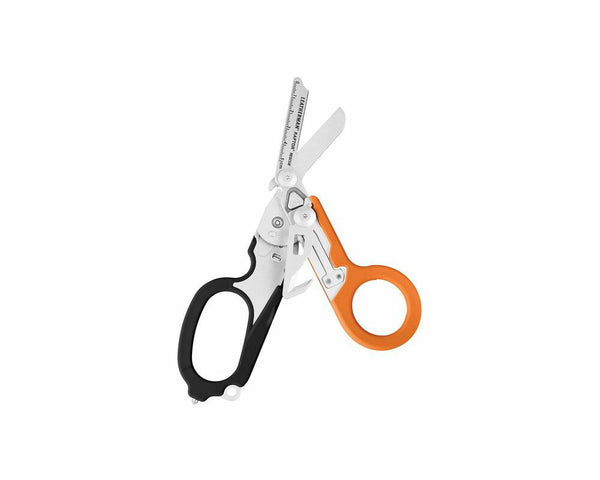 Leatherman Raptor Medical Shears: Black/Orange
The Leatherman Raptor shears feature the necessary tools for uniformed medical professionals to safely and quickly go to work in an emergency situation.
Developed with the input of special operations medics, EMTs and fire professionals familiar with standard medical shears, the Raptor shears were crafted with just the right balance of multipurpose features for medical-specific ops without an overkill of tools to complicate sometimes life-threatening situations.
When it's a question of survival, the Raptor answers loud and clear. Holster included. Commonly used as medical shears, trauma shears, industrial shears, fabric shears, kitchen shears, garden shears.
Features:
• Lanyard Hole: A hole designed in the body of the tool meant for attaching it safely and securely to a lanyard. Often people who work near water or on scaffolding attach their tool to a lanyard on their person to avoid losing the tool if it's dropped.
• Replaceable Pocket Clip: A removable clip which allows the user to wear their multi-tool attached to a pocket or belt loop without the use of a sheath. By removing the clip, the user is able to easily carry their tool in a sheath if preferred.

Tools:
• 420HC Stainless Steel Folding Medical Shears
• Strap Cutter
• Ring Cutter
• Ruler (5 cm)
• Oxygen Tank Wrench
• Carbide Glass Breaker.

Specifications:
• CLOSED LENGTH: 5 in | 12.7 cm
• OPEN LENGTH: 8.0 in | 20.3 cm
• SHEAR LENGTH: 1.9 in | 4.8 cm
• WEIGHT: 5.8 oz | 164 g
• WIDTH: 1.9 in | 4.8 cm
• OVERALL THICKNESS: .67 in | 1.7 cm
Materials:
• 420HC Stainless Steel, Glass-filled Nylon, Carbide
Accepted Payment options
- Visa
- Mastercard
- American Express
- Visa Debit
- Bank Deposit