Leatherman Raptor Medical Shears: Black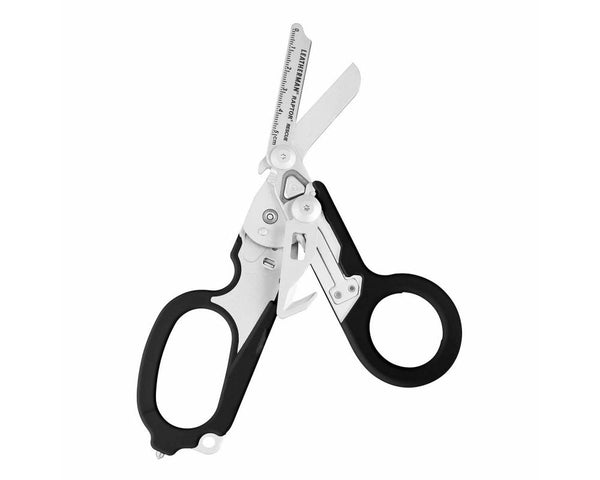 Leatherman Raptor Medical Shears: Black
The Leatherman Raptor shears feature the necessary tools for uniformed medical professionals to safely and quickly go to work in an emergency situation. Developed with the input of special operations medics, EMTs and fire professionals familiar with standard medical shears, the Raptor was crafted with just the right balance of multipurpose features for medical-specific ops without an overkill of tools to complicate sometimes life-threatening situations. When it's a question of survival, the Raptor answers loud and clear.

Tools featured on the Raptor:
• 420HC Stainless Steel Folding Medical Shears
• Strap Cutter
• Ring Cutter
• Ruler (5 cm)
• Oxygen Tank Wrench
• Carbide Glass Breaker

Features:
• Molle or Utility Belt Holster System
• Lanyard Hole
• Replaceable Pocket Clip
• Lightweight plastic handle

Materials:
• 420HC Stainless Steel
An improved, high-carbon (HC) form of 420 stainless steel that works well with high production tooling. 420HC's strength is optimized in Leatherman multi-tools by heat treatment.
• Glass-filled Nylon
A thermoplastic material where strength is improved by adding chopped glass fibers. This allows for excellent durability without adding significant weight. In Leatherman knives, the glass-filled nylon handles are so strong that an inner steel frame is not required, thereby reducing weight for a lighter every day carry. Leatherman uses a 60% glass mix.
• Carbide
One of the hardest materials in the world outside of diamond, tungsten carbide is used as a tool to effectively and safely break auto glass and is available on Leatherman first responder tools.
Accepted Payment options
- Visa
- Mastercard
- American Express
- Visa Debit
- Bank Deposit