LED Lenser H19R Signature Headlamp 4000 Lumens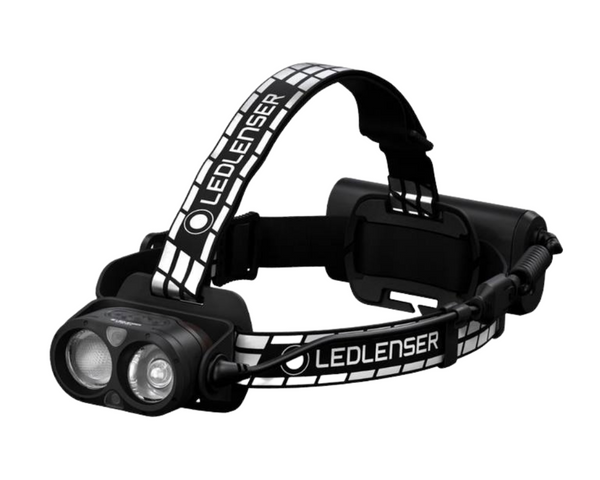 The LED Lenser H19R Signature is the ultimate high-end headlamp for extreme outdoor adventurers.
The fusion of an individually adjustable flood and spot LED light creates a truly unique light pattern. Thanks to the LED Lenser Connect App and Bluetooth remote control, the H19R Signature can easily be personalized and controlled remotely. The included accessories ensure flexible use, e.g. on helmets or on handlebars. That and much more makes the LED Lenser H19R Signature Headlamp a premium portable light choice.
Features
Light Functions:
• Power - high light output for every situation
• Mid Power - medium light output for every situation
• Low Power - economical light for long battery life, glare-free reading and working
• Boost - short-duration maximum power for more brightness
• Blink - automatic emission of light impulses at regular intervals
• Position - two short pulses of light, repeated three times, to alert others of your location
• S.O.S - the distress signal the light emits is SOS in Morse code (3 x short, 3 x long, 3 x short)
• Strobe - flashes of light with a confusing blinding effect for, among other things
Switches: 
• Multifunctional Switch - multi-function switch for quick and easy control of individual light functions
• Powerful premium headlamp - with up to 4000 lumens and LED Lenser's patented Advanced Focus System
• Bluetooth connection - to the smartphone for custom light functions and settings via LED Lenser Connect App
• Fusion Beam - individually adjustable flood and spot light provide excellent illumination
• Additional accessories included - such as remote control, GoPro adapter, extension cable, universal mount and helmet mounting system
IP-Class:
• IP68 - Protection for submersion in water up to 1.5m deep for up to 30 mins.
Rechargeable: 
• By using rechargeable batteries, you're not just protecting your wallet, but also the environment. Regular batteries, after all, require up to 500 times more electricity to produce than they can release themselves. Combined with the energy consumption for transport and storage, the CO2 emissions are huge.
Signature Series:
• Represents the premium solution to the LED Lenser range. Including all of the latest technologies with a new sleek design, luxurious materials and additional accessories. This range is for people who want the "Best of the Best" lights out there on the market.
Specifications:
• LED Configuration: 2x Xtreme LED
• Luminosity: MAX - 4000 lm; MIN - 200 lm
• Lighting Range: MAX - 330 m; MIN - 80 m
• Battery Duration: MAX - 20 h; MIN - 3.5 h
• CRI: 80
• Colour Temperature: 6500
• Battery: 1 x Li-ion 7.4V
• Battery Capacity: 4800 mAh
• Water Resistance: IP68
• Rechargeable: Yes
• Head Diameter: 68 mm
• Weight: 374 g
Accepted Payment options
- Visa
- Mastercard
- American Express
- Visa Debit
- Bank Deposit