LED Lenser Headlamp H5R Core: 500 Lumens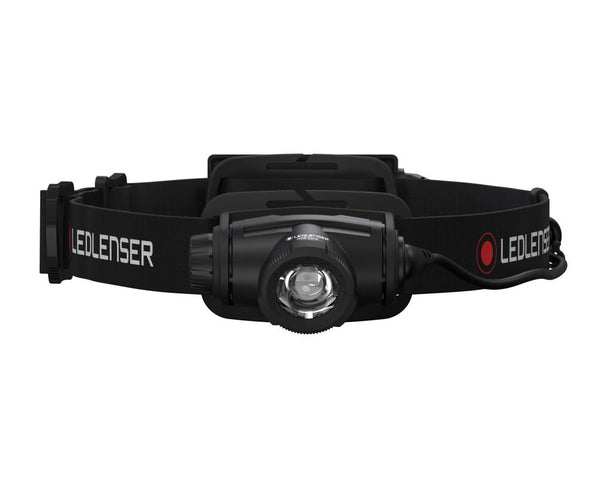 The rechargeable H5R Core is a compact, yet powerful headlamp that is a convenient portable lighting solution which defies almost any weather condition. This headlamp is practical and versatile, thanks to the Ledlenser patented Advanced Focus System, and offers continuous dimmability and a 160-degree tilting head.

The H5R Core can be charged easily with magnetic charging and features a battery status indicator, so you know when to power back up.

Comes with: magnetic charging cable, rechargeable battery.

The Ledlenser H5R Core is covered by a 2-year standard warranty, which can be extended to 7 years by registering the product.
Features:

• Waterproof and dustproof to IP67
Flex Sealing Technology enables the headlamp to be protected against immersion in up to one metre of water.

• Advanced Focus System
Allows easy changing between broad floodlight and focused long distance beam.

• Stepless dimming with multi-function wheel switch
Intuitively dim your headlamp to get your ideal light output.

• Three light functions – Boost, High Power, Low Power
Choose the right light setting for your needs.

• Transport lock
Prevents the light from being switched on by accident - great in a pack.

• 160 degree tilting head
So you can direct the light exactly where you need it.

• Memory function
Headlamp will turn back on to the last light setting used.

• Magnetic Charge System for quick and easy recharging
Recharges in 210 minutes via magnetic contacts without having to remove the battery.

• Battery Indicator, Charge Indicator, Low Battery Warning
Makes it easy to manage your battery life.

Specifications:

Brightness (Boost) 500 lumens
Brightness (High) 300 lumens
Brightness (Low) 15 lumens
Beam Range (Boost) 200m
Beam Range (High) 150m
Beam Range (Low) 30m
Burn time (High) 2 hours
Burn Time (Low) 50 hours
Water/Dust resistance IP67
Weight 167g
Batteries Li-ion 3.7V 1800 mAh (included)
Light Functions Boost, High Power, Low Power
Recharge time 3.5 hours
Accepted Payment options
- Visa
- Mastercard
- American Express
- Visa Debit
- Bank Deposit