LED Lenser MH11 Rechargeable Headlamp: 1000 Lumens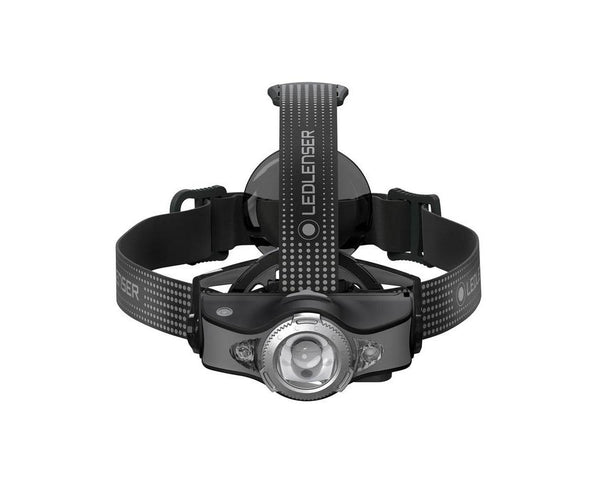 LED Lenser MH11 Rechargeable Headlamp: 1000 Lumens
Comes in Grey and Black or Black and Orange
OPTISENSE TECHNOLOGY, BLUETOOTH REMOTE CONTROL, MULTI-COLORS LEDS, AND SEVERAL MOUNTING OPTIONS.
The powerful MH11, the rechargeable flagship of Ledlenser outdoor headlamps, helps you on your adventures with sensational technologies. With the "Ledlenser Connect" app you can connect the lamp to your smartphone via Bluetooth so you can customize your settings at any time. Plus the MH11 features a Boost mode with up to 1000 lumens.
Add all this intelligence to the other features – rechargeable, Advanced Focus System, magnetic charging cable, aluminum heat sink, RGB front light plus battery indicator, 7 year extended warranty plus 1000 lumens of light over 320 metres and much more – and you know this is a headlamp that stands apart from all the rest.
Comes with: 1 x battery pack, magnetic charge system and transport pouch.
Features:

• Smart Light Technology (SLT): Offers 7 light functions (boost, high, med, low, blink, S.O.S, strobe), 2 energy modes (constant light & energy saving) and Dimmable function (seamless adjustment of the luminosity)
• Advanced Focus System: Allows easy changing between broad floodlight and focused long distance beam
• Rechargeable: Better for the environment
• Tiltable headlamp: Stepless pivoting mechanism for aligning the light beam down and up
• Optisense technology: Automatic adjustment to lighting conditions
• Innovative mounting system: For easily separating the lamp unit from the holder for maximum flexibility
• Bluetooth smartphone connection: To personalise settings, timer, etc.
• Multi-colour LED: Offers the option of red, green or blue light for use when fishing or hunting
• Energy status indicator: Low battery warning + charge indicator
• Temperature control system: Cools the light down so it never overheats
• Detachable, washable headband: Made from high quality material that absorbs sweat, is comfortable to wear and soft against your skin
• Transport lock: Prevents the light from being switched on by accident
• Front Switch - a switch on the head of the headlamp so you can use one hand
Light Functions:
• Power - high light output for every situation
• Mid Power - medium light output for every situation
• Low Power - economical light for long battery life, glare-free reading and working
• Blink - automatic emission of light impulses at regular intervals
• Boost - short-duration maximum power for more brightness
• S.O.S - the distress signal the light emits is SOS in Morse code (3 x short, 3 x long, 3 x short)
• Strobe - flashes of light with a confusing blinding effect for, among other things, self-defense
Specifications:
• Brightness: Boost - 1000 lumens, High - 750 lumens, Mid - 300 lumens, Low - 10 lumens
• Beam range: Boost - 320m, High - 300m, Mid - 200m, Low - 30m
• Burn time: High - 4 hours, Mid - 8 hours, Low - 100 hours
• IP-class: IPX4 water protection from any direction, IP5X dust protection
• Weight: 179g
• Battery: Li-ion 3.7V rechargeable (included)
• SLT light functions: Boost, high, medium, low, blink, SOS, strobe
Only items that can withstand the toughest conditions can bear the Ledlenser name. And because they are sure of the quality of their products, Ledlenser offer a worldwide warranty period of 7 years for online registered products. It extends to material defects and processing errors. They grant a deviating warranty period of 24 months for the perfect function of batteries. Excluded from the warranty are the products of the "Solidline", the Lite Wallet ®, the Powercase, Ledlenser K1 and Ledlenser K2, accessories as well as defects of batteries, holsters, bags, remote switches, color filters, embossing and surface coatings.
Accepted Payment options
- Visa
- Mastercard
- American Express
- Visa Debit
- Bank Deposit