Nikwax Tech Wash 25 Litre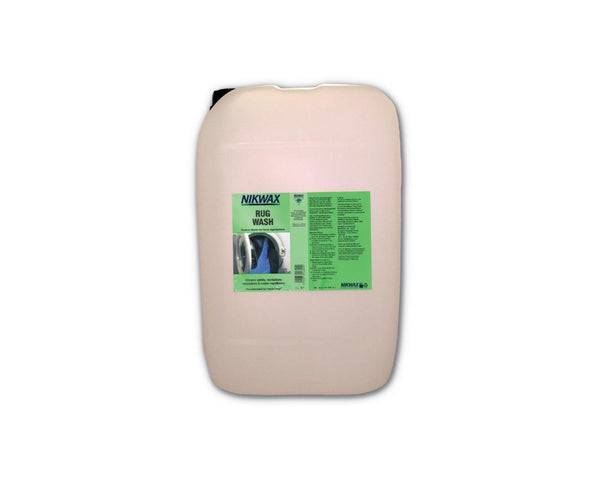 Nikwax Tech Wash® is the market leader; it has been specifically designed and optimised for breathable waterproof fabrics.
Nikwax Tech Wash® is a highly effective cleaner. Additionally it will revitalise existing Durable Water Repellency (DWR) and revive breathability. It is the safe way to thoroughly clean your waterproof clothing and equipment.
Application in a washing machine is quick, easy, and ensures that the whole garment is thoroughly cleaned.

Benefits
Cleans effectively, reviving breathability and water repellency.

Directions for use

• Use Nikwax Tech Wash® in a washing machine...
• Use neat Tech Wash® and a sponge, or soft nylon brush, to treat stubborn stains before washing. Remove all non-washable parts. Shake well before use. Follow care label instructions. Do not use detergents.
• Remove all detergent build up from the detergent dispenser.
• Place item(s) in washing machine (maximum 2 items).
• Use 150ml in medium/hard water* areas and 100ml in soft water areas for 1-2 items.
• Wash according to care label.
• Immerse item(s) in 6L hand-hot water in sink or bowl.
• Use 150ml in medium/hard water* areas and 100ml in soft water areas for 1-2 items.
• Rinse 3 times in clean water.
• If your kettle furs up you have hard water. For extreme hard water use 200ml.
• If the item doesn't require re-waterproofing, air dry or tumble dry on a low setting if care label allows.
• If you intend to re-waterproof the washed item there is no need to dry it first.
• Use Nikwax TX.Direct® for breathable clothing, Nikwax Tent & Gear SolarProof® for equipment, or Nikwax Cotton Proof™ for cotton, polycotton and canvas.
Accepted Payment options
- Visa
- Mastercard
- American Express
- Visa Debit
- Bank Deposit