Olight Odin Turbo Torch With Rail: 330 Lumens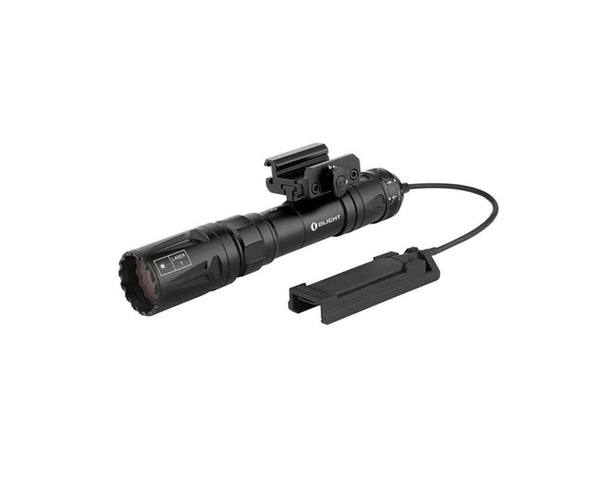 The Olight Odin Turbo is Olight's first-ever LEP tactical flashlight in our revolutionary Odin WML series. It adopts the latest LEP technology to achieve an unbelievable 1,050-meter beam distance with 330 lumens of output, while only slightly larger than the original Odin. This light also utilizes our exclusive rotate-to-lock slide rail mount for maximum convenience and safety. The included magnetic remote switch features a lock-on ring for a swift and tight fit with the stainless steel tailcap. The Odin Turbo also includes some of our most innovative and useful features including a customized 5000mAh 21700 battery, MCC3 charging cable, vibration battery indicator, and two-stage tactical tail switch. With a beam like a lightsaber, solid build, and practical accessories, the Odin Turbo is the best ultra-range WML option on the market.
Features:
• As a Class 1 LEP light, the Odin Turbo produces a 1,050-meter/275,625-candela beam with nearly no spill, based on 330 lumens of output.
• Convenient PICATINNY mount with a mechanical lock, ensuring a quick and sturdy attachment. (M-LOK rails require an optional M-LOK mount.)
• Innovative push-to-lock magnetic remote switch (Utility Patent No.: US10670252B1) for a swift and tight fit with the tailcap.
• Powered by a single customized 5000mAh 21700 battery that is rechargeable via the included MCC3 magnetic USB charging cable.
• Multifunctional tailcap: magnetic charging, tactical handheld operation, and remote switch compatibility.
Lighting Levels:
• LEVEL 1: 330~180~90 lumens
• Run-time LEVEL 1: 30+150+30 minutes
• LEVEL 2: 90 lumens
• Run-time LEVEL 2: 7.5 hours
• Strobe: No
• SOS / BEACON: No
Specifications:
• Beam Distance: 1,050 m
• Max. Performance: 330 lumens
• Charge Type: Magnetic USB charge base
• Powered By: Customized 5000mAh 3.6V 21700 Rechargeable Battery (Included)
• Light Intensity: 275,625 candela
• Light Form: Standard hotspot diameter with impressive distance. The perfect all-around beam profile.
• Mode Operation: Tail switch
• Form/Size Factor: Medium size (Permanent Marker)
• Body Material: Aluminum Alloy
• Waterproof: IPX8
• Weight: 249g / 8.78oz (Including Battery)
• Length: 155mm / 6.10"
• Head Diameter: 31.0mm / 1.22"
• Body Diameter: 26.6mm / 1.05"
• Use: hunting, tactical, military, security and protection, police, EDC, outdoor, professional activities, police
Included:
• Odin Turbo (Battery Included) x 1
• PICATINNY Rail Mount x 1
• MCC3 Magnetic Charging Cable x 1
• Magnetic Remote Switch (with Stand) x 1
• H2.5 Allen Wrench x 1
• Adjustable screw x 2
• Self-locking band x 2
• User Manual x 1
Accepted Payment options
- Visa
- Mastercard
- American Express
- Visa Debit
- Bank Deposit