Pulsar Thermion 2 XP50 Thermal Scope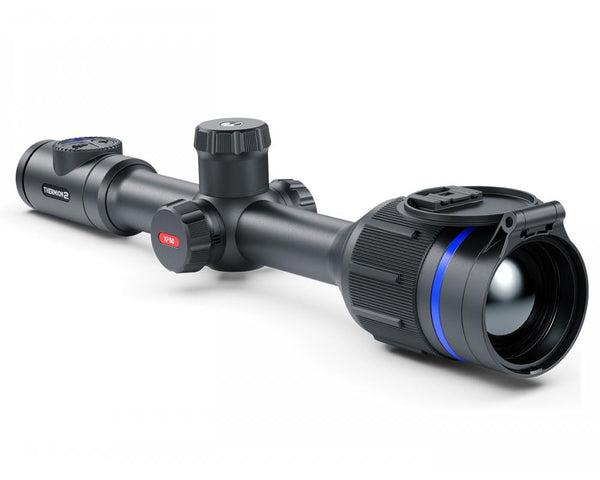 Boasting state-of-the-art design and the latest in advanced technological innovations, the Pulsar Thermion 2 delivers the premium thermal imaging you've come to expect, but on a traditional-style aircraft-grade 30 mm-tube. The cutting-edge thermal imaging riflescopes for professional hunters who value traditions and seek technological superiority.
Highly sensitive thermal imaging sensor
Thermal imaging sensor with NETD <25mK* ensures perfect detail recognition even in the harshest weather conditions with low thermal contrast. The smallest temperature differences will be clearly visible during rainfall, in fog or cold mornings in the most difficult conditions for thermal imaging.
Fast Aperture F/1.0 Germanium Optics
Quality fast-aperture germanium optics ensure optimal heat energy transmissivity minimizing noise and improving the details of the scene observed.
Mounts on Standard 30 mm Scope Rings
Designed from the ground up for ease of use, Thermion riflescopes are mounted on standard 30mm scope rings. No specialized tools or equipment are required.
Extreme Detection Range 1800 m (2,000 Yds)
High quality germanium optics coupled with an advanced thermal imaging sensor ensure an unprecedented detection range of up to 1800 meters – even in complete darkness.
RUGGED AND RELIABLE
Recoil Rated up to .375 H&H, 12-Gauge and 9.3×64
Recoil rated up to 6,000 joules for flawless performance on larger calibers up to .375 H&H, 12-gauge and 9.3×64.
Rugged, Reliable All-Metal Housing
Designed for rugged reliability, Thermion riflescopes boast full, reinforced yet lightweight мetal construction. Precision-fabrication of housing elements ensures flawless field performance.
IPX7 Waterproof Rated
IPX7 waterproof rated for protection from heavy rainfall, snow or other precipitation. The Thermion is designed to run flawlessly, even after submersion in up to 3 feet of water for up to 30 minutes.
Variable Digital Zoom
Digital zoom, up to 8x, provides improved focus and overall target recognition at significant distances.
Zeroing Profiles Management
Store up to 5 zeroing profiles, with 10 distance coordinates each for varying scenarios, in internal memory for quick rifle change-outs and on-the-fly adjustments.
Wide array of color-customizable reticles, including scalable ballistic styles. Color options: black, white, red and green.
Picture-in-picture displays a magnified image at the top-center 10% of the overall field of view for precise shot placement.
Image Boost technology is a proprietary combination of software algorithms which enhance image clarity and overall image detail. Applying Image Boost makes for a sharper and more detailed picture enabling better object identification capabilities.

While the Thermion's HD AMOLED display delivers crisp, richly contrasted, vividly colored field of view, AMOLED technology ensures flawless, fluid, high-resolution imaging and power saving.
Color palettes offer customized display options. While white hot and black hot are most popular, red hot, rainbow and ultramarine highlight a heat signature's more intense hot spots. Violet, red monochrome and sepia are optimal palettes for reduced eye fatigue over long periods of observation.
Integrated video (including recoil-activation) and still image recording in MPEG-4 and .jpg makes sharing the thermal action quick and easy. The onboard 16-GB internal memory handles recoil flawlessly and stores hours of video or thousands of photos.
Using Wi-Fi and the Stream Vision App, connect the Thermion to a smartphone or tablet for use as a second display or remote control and to transfer recorded files, adjust settings, and upgrade firmware.
Functions and features of Thermion models as well as their performance can be upgraded and improved with the release of new software.
Thermion operation and adjustments are simple using the three function buttons on the top of the device and left side encoder. The three buttons and encoder provide access and management of all device menu options, settings, and system functions.
Thermion riflescopes have a combined battery system which consists of two rechargeable batteries – internal and external. The external rechargeable battery ensures additional operation time and can be replaced in a matter of seconds.

• Sensor    640x480 @ 17um (NETD <25 mK)
• Objective Lens    F50/1.0
• Magnification, x    2-16 (x8 zoom)
• Field of View (HxV), degrees / m@100m    12.4x9.3 / 21.8x16.3
• Detection Range, M    1800
• Resolution, pixels    640x480 @ 17um (NETD <25 mK)
• Pixel pitch, um    17
• NETD, mK    <25
• Frame rate, Hz    50
• Objective Lens    F50/1.0
• Magnification, x    2 - 16
• Field of view (HxV), degrees / m @ 100m    12.4x9.3 / 21.8x16.3
• Eye relief, mm    50
• Type    AMOLED HD
• Resolution, pixels    1024x768
• Detection Range, M    1800
• Video / Photo resolution, pixel    1024x768
• Video / Photo format    .mp4 / .jpg
• Built-in memory, GB    16
• Wireless Protocol    WiFi
• Frequency, GHz    2.4
• Line-of-sight reception range, m    15
• Degree of protection, IP code (IEC60529)    IPX7 (waterproof)
• Operating temperature range, ºC    -25º to +50º
• Max. recoil power on firearm (Eo), Joules    6000
• Shock resistance on the smooth-bore rifles, caliber    12
• Mounting Brackets on weapon    Standard 30mm rings
• Output voltage, V    3.0 - 4.2
• Battery Type    Dual Li-Ion B-Pack Mini Power System: 2 Ah Changeable Battery (external) / 3.2 Ah Battery (internal)
• Capacity, mAh    2000 (external) + 3200 (internal)
• Operating time on battery pack (at t=22ºC), h *    5+
• External power supply, V    5 (Micro USB Type B)
• Body Material    Metal
• 30mm Tube diameter
• Dimensions, mm    416x78x83
• Weight, kg    0.9
Accepted Payment options
- Visa
- Mastercard
- American Express
- Visa Debit
- Bank Deposit