Pulsar Thermion 2 XQ38 Thermal Scope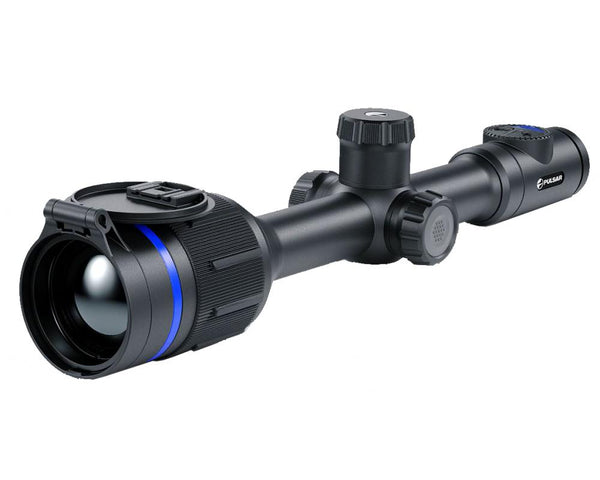 Pulsar THERMION 2 Thermal Imaging  XQ38 Riflescope
The Thermion 2 XQ38 is the latest addition to Pulsar's highly successful line of Thermion riflescopes. Its upgraded 384x288 microbolometer sensor detects extremely slight variations in heat signatures up to 1476 yards away – the Thermion 2 XQ38 then delivers these highly-contrasted images on an immaculate 1024x768 AMOLED display. In addition to massive detection range and outstanding image quality, the Thermion 2 XQ38 features a true 38mm objective lens and NETD <40mK —for higher object and background resolution—plus 2.5-10x digital magnification, enabling target acquisition in virtually any environmental conditions. With 10 reticle options, 8 distinct color palettes and rock, forest, identification and user modes, users can expect rich image delivery customized to their circumstance, whether that's hunting, law enforcement or other thermal purposes. To preserve those memories, the Thermion 2 XQ38 boasts built-in recording with audio, Picture-in-Picture mode and 16GB of memory storage. With its combined internal and external battery pack, the Thermion 2 XP50 allows hot swapping so you don't miss any of the action and can enjoy up to 7 hours life without reduction in performance. Utterly tough, the Thermion 2 XQ38 features an IPX7 waterproof rating and can operate between temperatures of -13F to 122F. When you need a top-quality thermal scope packed with cutting-edge features, the Thermion 2 XQ38 is one of the best in the business.  
Features:
Picture in Picture
Picture in picture displays a magnified image at the top center 10% of the overall field of view for precise shot placement.
Image Boost Technology
Image Boost technology is a proprietary combination of software algorithms which enhance image clarity and overall image detail. Applying Image Boost makes for a sharper and more detailed picture enabling better object identification capabilities.
Full Color, HD AMOLED Display
While the Thermion's HD AMOLED display delivers crisp, richly contrasted, vividly colored field of view, AMOLED technology ensures flawless, fluid, high resolution imaging and power saving.
Video and Still Photo Recording
Integrated video (including recoil activation) and still image recording in MPEG-4 and .jpg makes sharing the thermal action quick and easy. The onboard 16-GB internal memory handles recoil flawlessly and stores hours of video or thousands of photos.
Stream Vision App Supported
Built in Wifi module gives you connectivity of the Pulsar Thermion XQ38 with smartphones or tablets. The smartphone and thermal imager combination feature direct image streaming, downloading and sharing recorded files, firmware update and many other.
Upgradable Functionality
Functions and features of Thermion models as well as their performance can be upgraded and improved with the release of new software.
User Friendly Controls
Thermion operation and adjustments are simple using the three function buttons on the top of the device and left side encoder. The three buttons and encoder provide access and management of all device menu options, settings, and system functions.
B-Pack Mini Combined Power System
Thermion riflescopes have a combined battery system which consists of two rechargeable batteries – internal and external. The external rechargeable battery ensures additional operation time and can be replaced in a matter of seconds.
Rugged, Reliable All Metal Housing
Designed for rugged reliability, Thermion riflescopes boast full, reinforced yet lightweight metal construction. Precision fabrication of housing elements ensures flawless field performance.
Recoil Rated up to .375 H&H, 12-Gauge and 9.3×64
Recoil rated up to 6,000 joules for flawless performance on larger calibers up to .375 H&H, 12-gauge and 9.3×64.
IPX7 Waterproof
IPX7 waterproof rated for protection from heavy rainfall, snow or other precipitation. The Thermion is designed to run flawlessly, even after submersion in up to 3 feet of water for up to 30 minutes.
Variable Digital Zoom
Digital zoom, up to 8x, provides improved focus and overall target recognition at significant distances.
Zeroing Profiles Management
Store up to 5 zeroing profiles, with 10 distance coordinates each for varying scenarios, in internal memory for quick rifle change outs and on the fly adjustments.
Customizable Reticle Options
Wide array of color customizable reticles, including scalable ballistic styles. Color options: black, white, red and green
Technical Specifications: 

• Type of Microbolometer    Uncooled Microbolometer
• Microbolometer Resolution, pixels    384х288
• NETD, mK    <40
• Frame Rate, Hz    50
• Pixel Pitch, µm    17
• Display Type    AMOLED
• Display Resolution, pix.    1024 x 768
• Magnification    2.5 - 10 x
• Digital Zoom    2x /4x
• Lens Focus, mm    35
• Relative aperture, D/f'    1:1
• Field of View,°, horizontal * vertical    10.7
• Minimum focusing distance, ft/m    16 / 5 ft / m
• Eye Relief    2 / 50 in / mm
• Diopter Adjustment    -3 / +5
• Range of Detection    1350 m
• Windage & Elevation, 1 click (h/v), mm@100m    18
• Windage Range of Adjustment    3600 mm/100m
• Elevation Range of Adjustment    3600 mm/100m
• Reticle, Type    10 (3 scalable, 7 static)
• Zeroing coordinates memorization    5 profiles (10 coordinates each)
• Side tilt indication    Yes
• Picture in Picture option    Yes
• Operating modes    Rocks, Forest, Identification, User Mode
• Color palette    8
• Integrated video recorder    Yes
• Built-In Memory, Gb    16
• Video Format    MPEG-4 1024x768
• Format of photo files    JPEG 1024x768
• Integrated Wi-Fi    Yes
• Stream Vision support    Yes
• Spectral Sensitivity, µm    8 - 14
• Battery Type    Combined B-Pack Internal + external
• Battery life, (with video out off), hours    7
• External Power Supply    Micro USB 5.0V
• Operating Temperature    -25/+50 C
• Waterproof IP Standard    Waterproof IPX7
• Calibration    Manual, Automatic, Semi-automatic
• Shock resistance  J    6000
• Mount Type    30 mm rings
• Length (in/mm)    15.7 / 399
• Width (in/mm)    3.07 / 78
• Height (in/mm)    3.26 / 83
• Weight, (without batteries/without mount), oz/g    750 / 26.45
Accepted Payment options
- Visa
- Mastercard
- American Express
- Visa Debit
- Bank Deposit