Pulsar Trail 2 LRF XP50 SQD Thermal Scope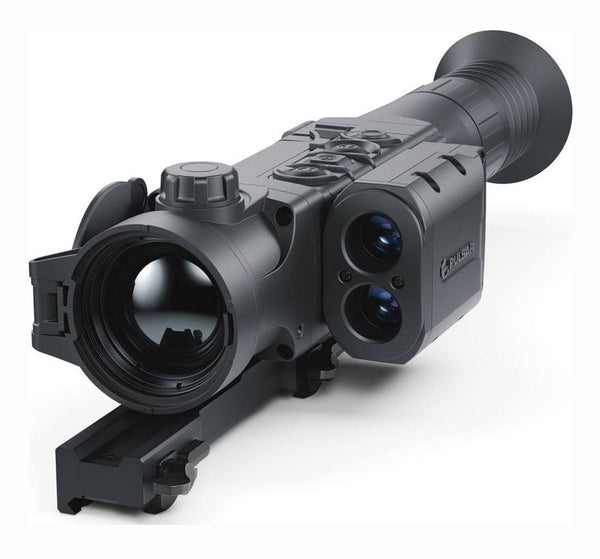 Built on a new hardware platform featuring new highly sensitive thermal imaging detector with <40 mK NETD and HD AMOLED micro display, TRAIL 2 LRF XP50 SQD is able to produce sharp contrasted and full of detail image in all conditions. Capabilities of thermal detector are pushed even further by proprietary software features of PULSAR like Image Detail Boost technology and Observation modes. Integrated laser rangefinder provides quick on-the-go range data for precision shooting. Video recorder with 16 Gb of internal memory, Wi-Fi module and a number of other important features turn the unit into a versatile hunting tool for even the most demanding professionals.
Features:
Highly sensitive thermal imaging sensor
Thermal imaging sensor with NETD 40mK ensures perfect detail recognition even in the hardest weather conditions when thermal contrast is low. The smallest temperature differences will be clearly visible during the rainfall, fog or cold mornings in the most difficult conditions for thermal imager.
High Definition Image
Sharp, richly contrasted thermal imaging for enhanced identification of animals, their extremities and even the smallest details, i.e. branches, leaves, grass and terrain.
Built-in precise laser rangefinder
Integrated, precision laser rangefinder provides accurate rangefinding in two modes – Single Time Measurement and Scanning mode with ±1 m accuracy up to 1 km distance. Scanning mode allows the shooter to adjust quickly to changing distances for better shot placement.
Shockproof magnesium alloy housing
Rugged and light-weight magnesium alloy housing is designed to withstand recoils of high caliber rifles. Increased structural rigidity reduces vibrations during the shot and leads to enhanced ballistics while properties of magnesium alloy help to ensure better heat dissipation.
Image Boost Technology
Image Boost technology is a proprietary combination of software algorithms that allows to raise image clarity and overall image detail. Application of Image Boost makes picture look sharper and more detailed enabling better object identification capabilities.
Full-Color, HD AMOLED Display
Trail's new HD display delivers crisp, richly contrasted, vividly colored field of view, AMOLED technology ensures flawless, fluid, high-resolution imaging and power saving.
Wide-angle eyepiece
The field of view of the complex wide-angle six-lens eyepiece, employed in the TRAIL 2 LRF features 20% increase compared to the previous model. Combined with the HD quality AMOLED display, the eyepiece delivers a rich and deep image perception.
Built-in photo and video recorder
The Built-in video recorder is a great asset when it comes to filming or taking photos of once-in-a-lifetime experiences. One press of the REC button captures footage that can be shared easily with colleagues, friends and family. 16 Gb of internal memory provide many hours of recorded video and tons of photos.
16 Gb Internal memory
16 Gb of memory offers enough space for recording and taking photos of exciting moments. Recorded files can be later downloaded to PC or smartphone.
Long detection range up to 1800 m
Powerful objective lens in combination with professional grade thermal imaging sensor with NETD 40 mK provides exceptional detection capabilities. A standard 1.8m tall object can be detected at a 1800 m distance in complete darkness.
Customizable Reticle Options
Wide array of color-customizable reticles, including scalable ballistic styles. Color options: black, white, red and green.
Instant Start-Up about 3 seconds
Thanks to revolutionary electronics, TRAIL 2 LRF can be powered up almost instantly. Quick start-up increases battery life and prolongs overall operation time. With instant start-up capability, the unit can be powered rapidly activated when seconds count.
Recoil Rated up to .375 H&H, 12-Gauge and 9.3x64
Recoil rated up to 6,000 joules for flawless performance on larger calibers up to .375 H&H, 12-gauge and 9.3x64.
Zeroing Profiles Management
Store up to 5 zeroing profiles, with 10 distance coordinates each for varying situations, in internal memory for quick rifle change-outs and on-the-fly adjustments.
Picture-in-Picture
Picture-in-picture displays a magnified image at the top-center 10% of the overall field of view for precise shot placement.
Variable Digital Zoom
Digital zoom, up to 8x, provides improved focus and overall target recognition at significant distances.
Wi-Fi. Integration with IOS and Android devices
Built in Wi-Fi module provides connectivity of thermal imager with Android or iOS smartphones or tablets. The smartphone and thermal imager combination offers a set of unique features such as direct image streaming, downloading and sharing recorded files, firmware update and many other.
IPX7 Waterproof Rated
IPX7 waterproof-rated for protection from heavy rainfall, snow or other precipitation. TRAIL 2 LRF is designed to run flawlessly, even after submersion in up to 3 feet of water for up to 30 minutes.

Weaver SQD Mount
Quick-release mount. It is designed to mount sight on hunting weapons equipped with rails such as Weaver or Picatinny. The mount has a reliable pin locking system to prevent accidental opening. Weaver SQD locking mechanisms are secured by locking screws so the mount withstands intensive operation – multiple cycles of removing and installing, vibration and shock loading during firing, the accumulated effect of a large number of shots – including complete repeatability of mounting the sight with the mount on the rail, maintaining the point of impact (adjusting) and accuracy of fire.
Specifications:
• Sensor: 640x480 @ 17 µm (NETD <40 mK)0
• Magnification: 2 – 16 (x8 zoom)
• IR Illuminator wavelength: 850 nm (long-range)
• Detection range: 1800 m
• Sensor Type: Uncooled
• Sensor Resolution: 1640 x 480 pixels     
• Objective lens: F50/1.2
• Field of view (HxV): 12.4 x 9.3 / 21.8 x 16.3 m @ 100 m
• Eye relief: 50mm
• Display type: AMOLED
• Display resolution: 1024 x 768 pixels
• laser rangerfinder max measuring range: 1000 m
• Reticle click value, H/V: 21 /21 mm at 100 m (on minimum magnification)
• Click range, H/V: 4200 / 4200 mm at 100 m 
• Number of preloaded reticles: 10
• Video / photo resolution: 1024 x 768 pixels
• Video / photo format: .mp4 / .jpg
• Built-in memory: 16 GB
• Degree of protection, IP code (IEC60529): IPХ7
• Operating temperature range: -25 – +50 °С
• Dimensions: 347 x 102 x 76 mm
• Weight: 0.8 kg
• Output voltage: 3.0 – 4.2 V
• Battery type: Li-Ion Battery Pack IPS7
• Capacity: 6400 mAh
• Operating time on battery pack (at t=22°C), h *: 8
• External power supply: Micro USB type B (5V)
• Max. recoil power on rifled weapon (Eo): 6000 Joules
• Shock resistance on the smooth-bore rifles, caliber: 12
• Wi-Fi Frequency: 2.4 GHz
• Line-of-sight reception range: 15 m
Accepted Payment options
- Visa
- Mastercard
- American Express
- Visa Debit
- Bank Deposit