Schmidt & Bender PM II 12-50x56 P4F Reticle Multi Turn .25CM Turret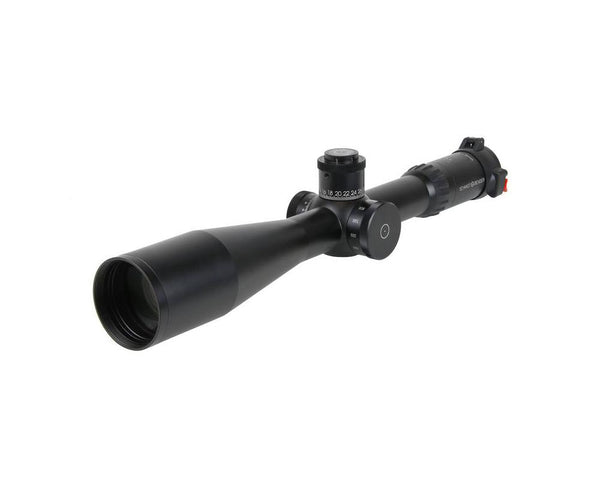 Schmidt & Bender is a German company that specialises in the production of high end scopes. They are known internationally for their outstanding quality and performance and are considered to be among the best tactical riflescopes on the market. Much of the assembly is done by hand in Germany, attributing their exceptional quality.
S&B scopes are incredibly versatile, allowing an accurate shot at short, medium, long and very long distances due to their clever reticles and sensible magnifications. They have excellent light transmission and superb clarity outclassing their competitors.
The 12.5-50x56 PM II / P is the ideal rifle scope when it comes to shooting at greater distances. The already existing in other Schmidt & Bender riflescopes repeatedly proven parallax allows to focus targets at distances between 10 m to infinity. Thanks to the huge adjustment, either as a double-turn or in another new multi-turn design, it is readily possible to carry out a trajectory to compensate for large distances. The scope is available with reticles in the 1st Image plane, or 2 Image plane available.
Specifications:
• Field of view: 3,50 - 0,90/100m
• Exit Pupil: 4,55 - 1,18 mm
• Eye Relief: 70mm
• Twilight Factor: 26,5 - 53,0
• Transmission: 90%
• Parallax: 100 m fix 
• Weight: 610 g
• Reticle: P3 / P4 Fine
Accepted Payment options
- Visa
- Mastercard
- American Express
- Visa Debit
- Bank Deposit