Schmidt & Bender PMII 5-45x56 Scope P4FL Illuminated 1cm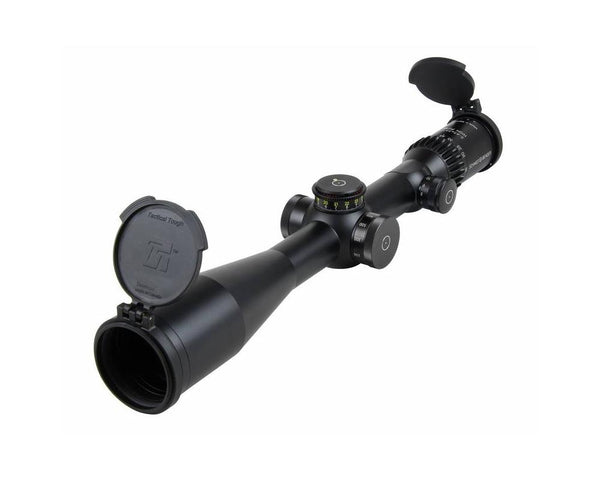 The Schmidt & Bender PM II series scopes are designed to meet the unique challenges of high precision shooting. Their quality and function make it possible to achieve exceptional shooting results as well as to fulfill the critical and demanding needs of official, law enforcement and tactical applications.

The 5-45x56 PM II High Power is the latest addition to the High Power line. Apart from the unusual magnification range, the optic design has been improved allowing a wider field of view on 5x magnification. This is the giant among Schmidt & Bender long range riflescopes.

Double Turn (DT) elevation adjustment with tactile rotational indicator and optional More Tactile Clicks (MTC) function, Ultra flat Lockable Turret (LT), with a Zero Click (ZC)

This represents a substantial recent development in a lockable double-turn turret. It incorporates an exceptionally low-profile design, and it features an incredible 350 cm click value (35 Mils total travel) with a more pronounced click at every 10th click (MTC optional). The second turn is indicated by a gold-colored pin, which is both visible and tactile, that appears out of the top of the turret. The locking action is triggered by pulling up the outer ring of the turret, and it is set by pressing it down again. A red symbol indicates the locked condition. Furthermore, it incorporates a Zero Click. This turret represents the ultimate in compact design.

Specifications:
• Magnification: 5-45x
• Exit pupil: 8.8-1.2mm
• Twilight factor: 16.7-50.2
• Field of view: 7.8-0.86 m/100m
• Eye relief distance: 90mm
• Tube diameter: 34mm
• Objective lens diameter: 56mm
• Transmission: 90 %
• Length: 453mm
• Weight: 925 g
• Elevation (turret): 270cm/100m 66 MOA/100m
• Windage (turret): ± 60 cm /100 m ± 15 MOA/100m
• Diopter: -3 to +2
• Adjustment: DT MTC LT / ST CT
• Adjustment value: 1cm / 1/4 MOA
• Reticle focal plane: 1st
• Illuminated reticle: P4LF

(440560)

NOTE: Please provide us a contact number if your item is to be shipped.
Accepted Payment options
- Visa
- Mastercard
- American Express
- Visa Debit
- Bank Deposit