Steiner Predator 8 3-24x50 40mm E3-i Reticle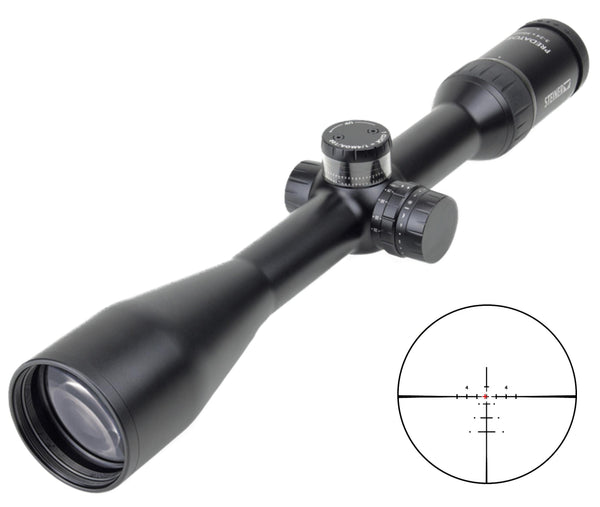 Be prepared for hunting any species, in any terrain across the globe with a Steiner Predator 8 3-24x50 with E3 ballistic illuminated reticle.
The Predator 8 riflescope series offer maximum versatility and precision and provides the premium optics you've come to expect with Steiner Scopes! 
An integrated customizable ballistic turret allows shooters to reliably and accurately dial for bullet drop, and three different numbered, movable rings, can be set to custom distances for quick dialing. Audible and tactile turret mechanics provide sure, intuitive operation and a Zero Mode means shooters can quickly get back to zero without coming off the optic. 
A wide field of view and high-contrast lens coatings ensure fast, brilliant, and crisp images with high edge-to-edge sharpness and outstanding detail recognition. Users will not lose accuracy on dark targets or in low light with illuminated reticle options with 11 brightness settings. 
The Predator 8 3-24x50 includes a rear focal plane E3 Ballistic reticle, with cascading subtensions and windage dots to help with tricky holdovers.
Features:
• Integrated customizable ballistic turret
• High-contrast glass with best-in-class optical clarity 
• Extra-wide field of view
• Industry-leading light transmission
• Versatile 8X system 
• Illuminated reticle with 11 brightness settings 
• Zero mode
• Rear focal plane E3 Ballistic reticle
• Waterproof up to 3 feet
• Nitrogen Filled & Fogproof
Specifications:
• Magnification: 3-24x
• Objective Lens Diameter: 50 mm
• Focal Plane: 2nd 
• Reticle: E3 Ballistic Illuminated
• Finish: Matte black
• Click Value: 1/4 MOA
• Field of View (@ 100 Yards): 1.6m - 12.6m / 5.2ft - 41.3ft
• Tube Size: 30 mm
• Eye Relief: 95 mm / 3.7"
• Exit Pupil: 8.5 low - 2.7 high (mm)
• Elevation Adjustment, Total Capability: 40 MOA
• Windage Adjustment: 40 MOA
• Length: 373 mm / 14.7"
• Weight: 714 mm / 25.2 oz
• Battery: CR2032
• Temperature Range: -25° to 62.8°
• Parallax: 20m to INF/ 20y up to INF
Accepted Payment options
- Visa
- Mastercard
- American Express
- Visa Debit
- Bank Deposit