Steiner Safari UltraSharp 10x42AE Binoculars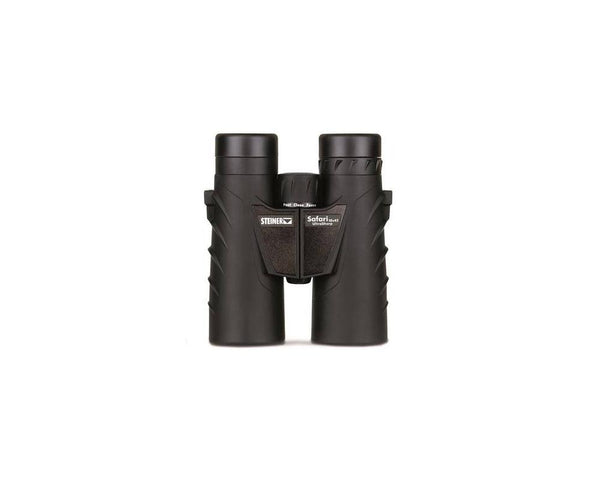 Steiner Binoculars have been an optic of choice for many for over 50 years due to their rugged dependability, German-engineering, and rigorous quality control. Whatsmore, Steiner is continuously advancing the sporting optics industry with their innovations and offer a range of binoculars for every application. Whether it's hunting, observing nature, or watching sport, Steiner has you covered. 

Versatile 10x magnification and a bright 42mm objective for maximum detail recognition at both close-range and greater distances. For an ambitious entry into outdoor applications.
The new Safari Adventure Edition allows you to overlay the wilderness of Africa directly on to your binoculars. Do you want a simple and elegant camouflage pattern like the black & white stripes of a zebra or the graceful and wild pattern of a leopard that lurks in the undergrowth of its prey?
With the Adventure Edition from Steiner, you can decide which type suits you best. Choose one of the two fur patterns and render your binoculars not merely into something to look through constantly but also into an eye-catcher.

This is too wild for you? No problem at all. Each pack includes, of course, the classical standard variant as well.

Create your own style and transform your binoculars into an adventure-loving companion with the Safari Adventure Edition – Choose the wild!

Every traveler, sports enthusiast, and active participant in anything needs a good pair of binoculars to see, understand and enjoy more. These are the ones you need: lightweight design, contemporary styling, comfort and simplicity, and a choice of power and capabilities let you pick the optics that fit you perfectly. Steiner's world-renowned image clarity, accurate colour, and field-proven toughness ensure maximum performance from your optics – and more pleasure from your pursuit of adventure.
The Steiner Binocular Ranger Extreme, Observer, Skyhawk, Safari and Navigator Series have a 10 year warranty. Outside of these periods a flat rate exchange policy applies.
Features:
• Steiner High-Contrast-Optics provide bright views, accurate colour and clear, brilliant 3D-images with high contour sharpness for exceptional performance around outdoor activities up to close range of 2 m.
• Steiner Fast-Close-Focus central focusing wheel requires minimal, stepless rotation for quick absolute sharpness from close-up to infinity- comfortable, easy to use.
• Lightweight, ergonomic design ensures sharp, crisp images in minimal space, so you can keep your optics anywhere.
• Extreme ruggedness with durable construction, water/fogproofing you can trust to stand up to any cold or wet condition at a temperature range between –20 °C to +70°C. Non-slip NBR-Longlife rubber armour protection resists oil, acid or adverse weather.

Specifications:
• Objective Diameter: 42 mm
• Magnification: 10 x
• Weight: 720 g
• Width: 128 mm
• Height: 148 mm
• Depth: 65 mm
• Exit Pupil: 4.2 mm
• Luminosity: 17.6
• Twilight Factor: 20.5
• Field of View at 1000 m: 100 m
• Focusing System: Fast-Close-Focus
• Close Focus Range: 2 m
• High-Performance-Optics: High-Contrast
• Waterproof: Yes
• Temperature Range: -20 to +70°C
• Eyecups: Cylindrical Rotation Eyecup
• Rubber Armouring: NBR-Longlife
• Carrying Strap: Comfort
• Strap Attachment: ClicLoc
• Lens caps: Yes
• Rain cover: Yes
• Bag: Yes.
Accepted Payment options
- Visa
- Mastercard
- American Express
- Visa Debit
- Bank Deposit