Tatonka Small Barrel 45L Bag: Blue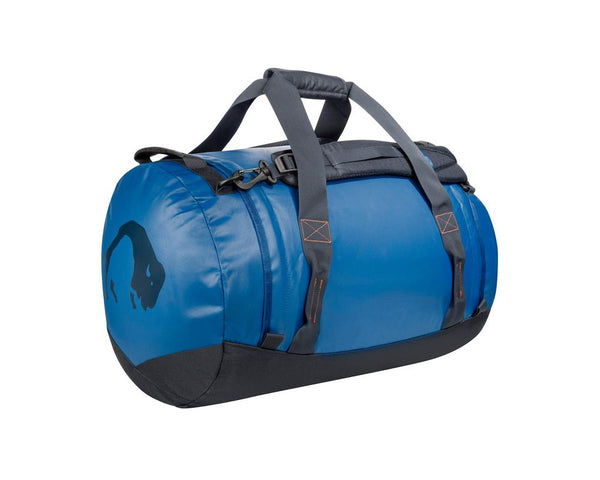 Tatonka Small Barrel 45L Bag: Blue 
Tatonka's indestructible, uncomplicated travel and backpack bag! The Barrel bag has a large opening making it easier to load the bag, while handles on the two sides make using the bag much easier. This robust Barrel bag is fit for any purpose - with offering 45 litres of luggage space, it's the perfect travel bag for a short trip of around three days, but it also serves as a great equipment bag for all kinds or as a cool sports and leisure bag.
The Tatonka Barrel is equipped with backpack shoulder straps, which can be stowed in a zippered pocket on the side. And two rubberized handles on both sides make handling easier, for example, when placing the bag in the trunk of a car. The Barrel bag is made of waterproof, very robust truck tarpaulin and has a bottom of durable and abrasion-resistant Textreme material.
This bag is in a single blue color, while the Textreme bottom matches the color of the tarpaulin. 
Features:
• Two stowable shoulder straps
• Variable attachment points for carrying straps
• Durable rubberised handles on both sides
• Extra-wide handles and shoulder straps
• Strong No.10 zipper
• Mesh pocket inside the lid
• Padded bottom
• Two insert pockets on the side of the main compartment
• Name tag
• Durable and easy-to-clean materials
Specifications:
• Measurements: 53 x 33 x 33 cm
• Volume: 45 L
• Weight: 1.3 kg
• Size: Small
• Colour: Blue
Materials:
• Fabric 1: Tarpaulin 1000 (50% polyester, 50% poly chloride) - robust tarpaulin material made of 1000 denier fabric with smooth surface, which is mainly used for bags. The double-coated polyester fabric is coated on both sides, absolutely waterproof and easy to clean.
• Fabric 2: Textreme 6.6 (100% polyester) - the textured polyester material in 600 den threads is robust, colourfast and versatile. PU-coated to achieve a weatherproof finish.
Accepted Payment options
- Visa
- Mastercard
- American Express
- Visa Debit
- Bank Deposit