Tatonka Hike Pack 32 Hiking 32L Backpack: Black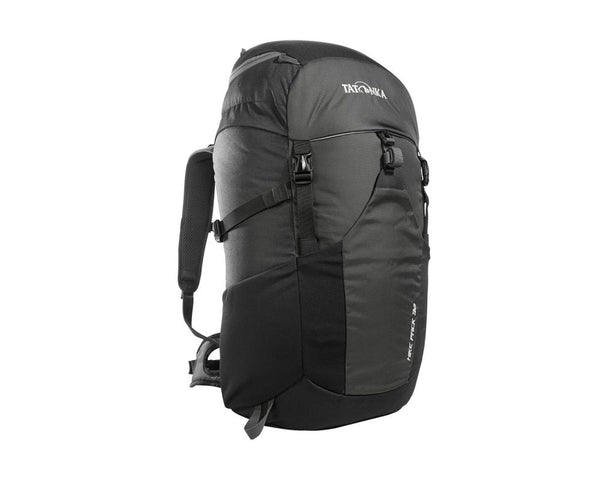 Tatonka Hike Pack 32 Hiking 32L Backpack: Black
Classic top loader hiking backpack with a super comfortable ventilated mesh back panel, 32 liter volume, hip belt with zip pocket, fixation for hiking poles, rain cover and front insert pocket for a via ferrata helmet, jacket or similar. Partly made of recycled materials.
Large hiking backpack Tatonka Hike Pack 32 with comfortable mesh back carrying system. Partly made of recycled materials.
The large Hike Pack 32 is perfect for weekend trips and its newly developed mesh back carrying system makes it an extremely comfortable hiking partner.
The Frame Vent Carrying System – comfortable and ventilated
The lightweight Frame Vent System with the flexible mesh nestles comfortably against the back, follows every movement and offers pleasant ventilation. Hip belt and ergonomically pre-shaped shoulder straps are also ventilated and fix the backpack firmly to the back.
Comprehensive stowage options and perfect features
The Hike Pack 32 has a capacity of 32 litres – ideal for weekend tours of two or three days. The lid compartment, the front pocket, two side pockets and a zipped pocket on one of the hip fins offer a variety of storage options.
The Hike Pack 32 is of course also equipped with walking stick holder, drinking system preparation and rain cover.
GREEN by Tatonka: Sustainable, environmentally friendly and resource-saving products
The use of recycled materials in the Hike Pack 32 is marked by the label GREEN. This label is awarded to products in which we use sustainable, environmentally friendly and resource-saving materials and which meet our requirements for high functionality, best quality and the minimization of the ecological footprint.
Features:
• Frame Vent Carrying System
• Fixation for hiking poles
• Load control straps
• Ventilated shoulder straps
• Height adjustable chest belt
• Ventilated hip belt with a zipped pocket
• Side compression
• Handle
• Lid with zip pocket
• Key holder
• Rain cover
• Hydration system compatible
• Side pockets
• Insert pocket at front
• Use of recycled materials
Specifications:
• Measurements: 56 x 27 x 15 cm
• Volume: 32 l
• Weight: 1050 g
• Carrying system 1: Frame Vent-System
• Fabric 1: reTex 6.6
• Fabric 2: T-Snow Crust
• Fabric 3: Tec Rip 5.0
Accepted Payment options
- Visa
- Mastercard
- American Express
- Visa Debit
- Bank Deposit