Tatonka Barrel 85L Bag: Black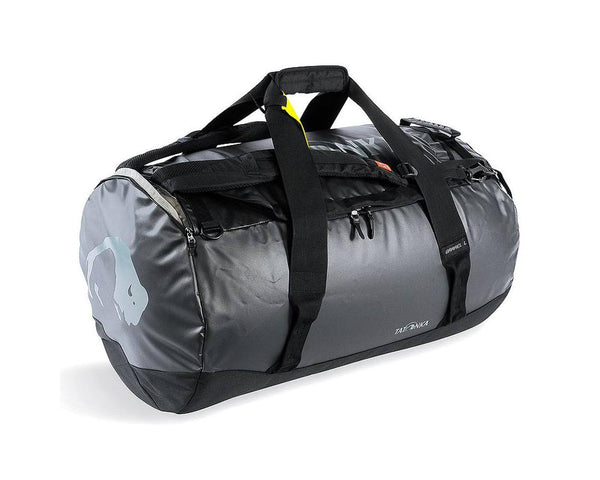 Tatonka Barrel 85L Bag: Black
Tatonka's indestructible travel bag. Alarge opening makes it easier to load while handles on the two sides make using this bag much easier. The bag is in a single color, while the Textreme bottom matches the color of the tarpaulin.

Features:
• Two stowable shoulder straps
• Variable attachment points for carrying straps
• Durable rubberised handles on both sides
• Extra-wide handles and shoulder straps
• Strong No.10 zipper
• Mesh pocket inside the lid
• Padded bottom
• Two insert pockets on the side of the main compartment
• Name tag
• Durable and easy-to-clean materials

Specifications:
• Measurements: 69 x 42 x 42 cm
• Volume: 85 l
• Weight: 1.85 kg
• Fabric 1: Tarpaulin 1000 - robust tarpaulin material made of 1000 denier fabric with smooth surface, which is mainly used for bags. The polyester fabric is coated on both sides, absolutely waterproof and easy to clean. 50% Polyester, 50% Poly chloride
• Fabric 2: Textreme 6.6 - the textured polyester material in 600 den threads is robust, colourfast and versatile. PU-coated to achieve a weatherproof finish. 100% Polyester.
Accepted Payment options
- Visa
- Mastercard
- American Express
- Visa Debit
- Bank Deposit