Tatonka Stealth Hunting 35L + 10L Pack: Camo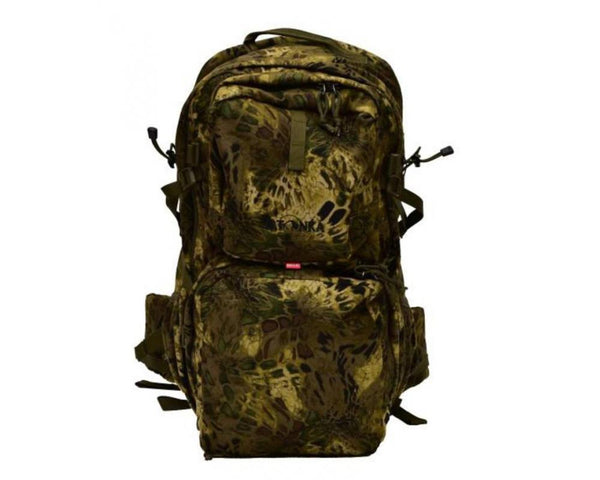 Since their introduction, we have had amazing feedback about our game-changing Tatonka Stealth packs. However, a common request we've received since their launch is for a camo pattern. We are excited to now deliver this with the introduction of our new Woodland Camo Stealth Packs!
These packs were designed specifically for New Zealand stalking conditions, with a soft, quiet fabric and all the essential features. The new woodland camo print has taken the level of stealth to a new level, ensuring these packs are truly the ultimate stalking companion.
Unlike other daypacks, these packs are capable of carrying decent loads, with the Stealth 35+10 designed to comfortably carry loads up to 35kg, which means it is perfect for the roar and meat harvesting trips.
The decent sized front pockets mean you can move all your gear into the front pockets and use the main compartment for meat storage when required. It is specifically designed so the pack can be laid flat and the space between the front pockets can be used as a shooting rest.
Equipped with RECCO® reflectors, part of the RECCO® rescue system that helps to locate people in rescue situations.
• Stealth Woodland Camo material
• Can carry loads up to 35kg
• Mini X1 internal 'Bison' frame
• External rifle scabbard which is able to be moved to 3 locations
• Shoulder strap extensions that allow tall people to carry the pack properly with the waist in the correct position
• Hi-vis removable external safety flag
• 2 extra large pockets to put equipment in when loading meat into main compartment, or use as a rifle rest in between pockets
• Equipped with RECCO® reflector
• Water bladder capable
• Volume    35 litres + 10 litres
• Weight    2.16kg
• Dimensions    56 x 30 x 17cm
• Material    Prym1 Camo (Suede + 450Den PES)
Accepted Payment options
- Visa
- Mastercard
- American Express
- Visa Debit
- Bank Deposit