Tatonka Yukon X1 75L + 10L Backpack: Teal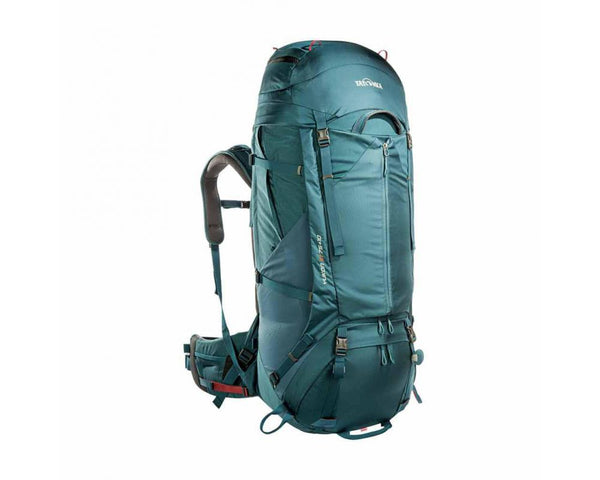 Tatonka Yukon X1 Trekking Backpack 75+10 Litre Teal
Trekking backpack for heavy loads with the high-performance X1 carrying system and RECCO® reflector.
The Tatonka Yukon X1 75+10 offers a generous 75 liters packing volume and is designed with its size and equipment for extended trekking tours or backpacker trips with lots of luggage. It also features a RECCO® emergency reflector that makes hiking in lonely regions safer.
Lighter and even more comfortable: The extremely powerful X1 Carrying System for heavy loads
New materials reduce the weight of our proven and powerful X1 Carrying System. The seamlessly molded back and the three-dimensionally shaped hip belt fit comfortably and ergonomically, so that the load is transferred very efficiently to the pelvic area. This ensures back-friendly carrying. The carrying system can also be adapted to different back lengths.
Backpack with large zipper opening made of robust material
The Tatonka Yukon X1 75+10 offers extensive storage and fastening options and is made of particularly tear-resistant and hard-wearing Cordura®. Thanks to the large front opening into the main compartment, it is also easy to pack and unpack.
Safety feature for wilderness tours – the RECCO® reflector on the lid
We have equipped our large trekking backpack with a RECCO® reflector, which enables rescue organisations to quickly and safely locate missing persons in extensive areas using the RECCO® helicopter detector. The reflector is small and lightweight, requires neither power nor batteries, does not require maintenance and always works.
Features:
X1 Carrying System
Equipped with RECCO® reflector
Snow guard with two drawstrings under the lid
Divided main and bottom compartments
Fixation for climbing rope
Fixation for hiking poles or ice axes
Two access points for load control straps
Height adjustable chest belt
Special construction whereby hipbelt-fixation is re-directed to allow for single-handed adjustment
Hip belt with gear loops
If you need to, the Tatonka Hip Belt Pouch (Item 1340) can be attached to the hip belt
Side compression straps
Handle on front and back
Strong No.10 zipper
Lockable zipper slider
Height adjustable lid with gear loops
Lidded compartment with waterproof zipper and integrated key holder
Hydration system compatible
Large zipped front opening into the main compartment
Bottom drawn high at the sides with all-round compression straps
Zipped side pockets with expansion pleats
Side pockets made of an elastic material
Gear loops on the front
Zip-up front pocket with elastic insert
First Aid Compartment (Contents not included)
Specifications:
Measurements: 85 x 37 x 22 cm
Volume: 75 l + 10 l
Weight: 3,15 kg
Carrying system 1: X1-System
Fabric 1: CORDURA® 500 den
Fabric 2: T-Snow Crust
Fabric bottom: CORDURA® 500 den
Accepted Payment options
- Visa
- Mastercard
- American Express
- Visa Debit
- Bank Deposit