Tech Wash & TX.Direct Spray-On Combo Pack: 300ml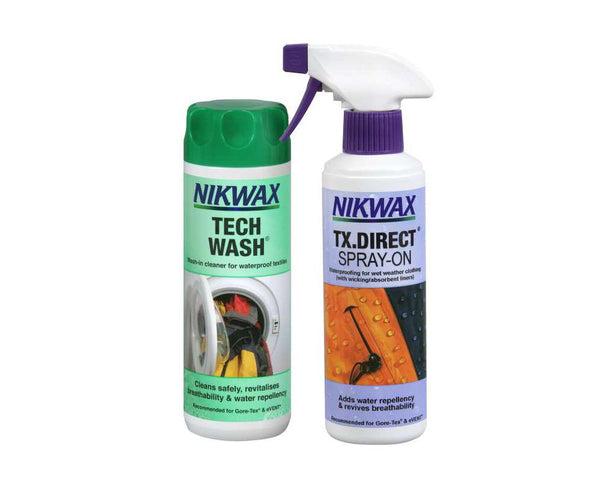 Tech Wash & TX.Direct Spray-On Combo Pack: 300ml
Nikwax manufactures high-quality cleaning and waterproofing products. Nikwax prolongs the life and enhances the performance of clothing, footwear & equipment. Whether you work or spend your leisure time outside, Nikwax keeps you dry.

Nikwax products are easy to use.
The products go exactly where needed; less product is wasted, saving you money. You can treat gear with Nikwax in your washing machine, by hand or by using our spray-on products.

Nikwax products are safe to use.
No propellant gases, non-toxic, no fluorocarbons, environmentally safe. It's WaterBased. By using Nikwax you can renew your gear and reduce the impact on the earth's resources.

Nikwax products keep you dry.
Nikwax ensures you get maximum performance from your gear so you stay dry, warm and comfortable in wet weather. Enjoy your time in the outdoors (even if it is work!!)

TX.Direct Spray-On is easy to use, safe, high-performance spray-on waterproofing for wet weather clothing.
Adds durable water repellency revives breathability and maintains internal wicking properties.
Tech Wash is number one in terms of ease of use and performance.
Safe to use, it is the ideal cleaner for wet weather clothing and equipment.
Cleans effectively, reviving breathability and water repellency.

Includes:
• One 300ml bottle of TX.Direct Spray-On.
• One 300ml bottle of Tech Wash.
Accepted Payment options
- Visa
- Mastercard
- American Express
- Visa Debit
- Bank Deposit