Trailmate Titanium 1 Litre Non-Stick Frying Pan *136 Grams Weight!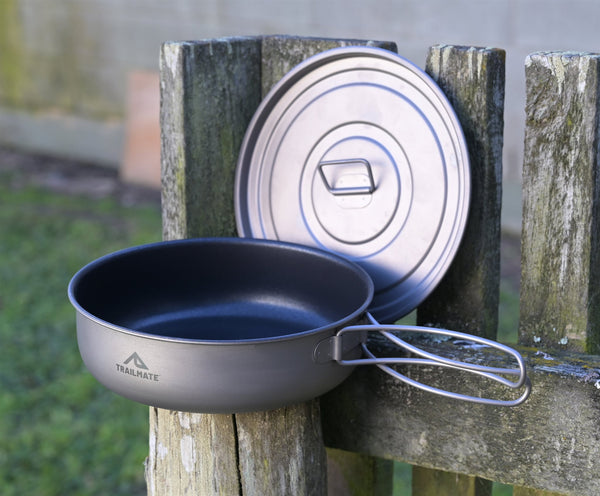 Pack light and easy with the titanium made non-stick frying pan made by Trailmate. Being made from 99.8% titanium, not only is it strong as well as lightweight; the Trailmate fry pan skillet is over HALF (164 grams) as light than the Jetboil Summit aluminum equivalent! 
Features:
Ceramic non-stick surface
99.8% titanium composition
Durable & lightweight
Fold away handles
Ventilation holes in the lid
Easy to clean
Non-magnetic
Heat resistant
High tensile strength
Includes a mesh carry bag
7" Diameter - 4.5cm depth
Weighs only 136 grams! (213 grams with lid)
Titanium Perfection:
Made from 99.8% titanium, this non-stick fry pan boasts exceptional strength and rust-resistance while remaining incredibly lightweight.
Featherweight:
Weighing an astonishingly light 213 grams, it won't add unnecessary bulk to your backpack, making it ideal for hiking, camping, hunting or backpacking adventures.
Mesh Carry Bag:
Keep your cooking pan skillet clean and organized with the included mesh carry bag. It's easy to pack, and the breathable mesh ensures your pan stays dry.
Sustainable and Eco-Friendly:
Titanium is not only strong but also eco-friendly being a widely known recyclable metal, making it an excellent choice for environmentally conscious consumers.
Cooking stove stand used in images not included
Accepted Payment options
- Visa
- Mastercard
- American Express
- Visa Debit
- Bank Deposit