Trailmate Titanium Cutlery Set 4 Piece *50 Grams Weight!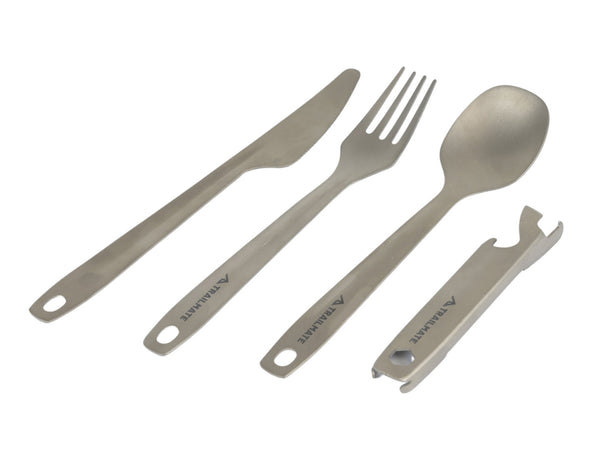 Pack light and easy with the 4 piece titanium made, 50 gram cutlery set made by Trailmate.
Features:
Includes knife, fork, spoon, bottle/can opener and mesh carry bag
Utensils slot into can opener for compact packing
99.8% titanium composition
Durable & lightweight
Easy to clean
Non-magnetic
Heat resistant
High tensile strength
Weighs only 50 grams!
Introducing the ultimate dining companion for adventurers who demand quality and the best option to carry light - Trailmate's Titanium 4-Piece Cutlery Set! Crafted from high-quality, corrosion-resistant 99.8% titanium composition, this set is not just cutlery; it's a testament to durability and lightweight design. Whether you're conquering the wilderness, embarking on a road trip, or simply looking for a reliable and compact dining solution, Trailmate's Titanium 4-Piece Cutlery Set is the perfect choice. Say goodbye to flimsy plastic utensils and upgrade to this durable, lightweight, and eco-friendly option. 
Titanium Perfection:
Made from 99.8% titanium, this cutlery set boasts exceptional strength and rust-resistance while remaining incredibly lightweight.
Versatile Functionality:
Trailmate's 4-piece set includes a knife, fork, spoon, and versatile can and bottle opener, offering a complete dining solution in a compact package.
Featherweight:
Weighing an astonishingly light 50 grams, this set won't add unnecessary bulk to your backpack, making it ideal for hiking, camping, hunting or backpacking adventures.
Mesh Carry Bag:
Keep your cutlery clean and organized with the included mesh carry bag. It's easy to pack, and the breathable mesh ensures your cutlery stays dry.
Sustainable and Eco-Friendly:
Titanium is not only strong but also eco-friendly being a widely known recyclable metal, making it an excellent choice for environmentally conscious consumers.
Accepted Payment options
- Visa
- Mastercard
- American Express
- Visa Debit
- Bank Deposit