Accu-Tech Monopod Adjustable Shooting Stick with 360° Swivel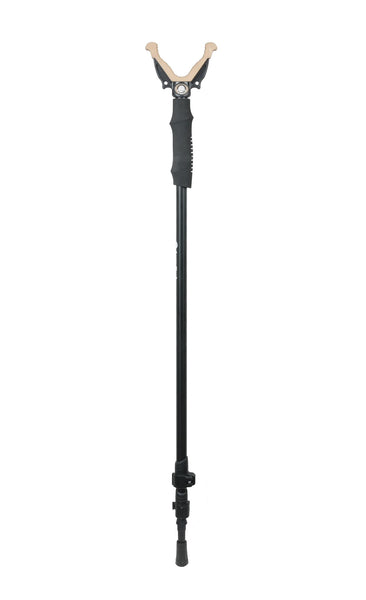 Take your hunting to the next level with the addition of an Accu-Tech Monopod Shooting Stick. It could mean the difference between getting that ever-important shot or not!
The Accu-Tech Monopod Shooting Stick is height adjustable from 34.8" - 73.2", giving you great choice range, whether you want to take your shot standing, sitting or kneeling. Adjust the height quickly and easily with two simple clamps. The rubberised V-mount ensures your rifle won't budge, and will not leave any marks on your stock. And with 360° swivel, you can pan your rifle around with ease, no need to worry about readjusting your set up. 
We all want more stability, adaptability and accuracy to our shot, every time. So simple and easy to use, the Accu-Tech Monopod Shooting Stick could be a game changing solution for your hunts.
Features:
Non-marking non-slip rubberised V-mount
360° swivel for smooth, uninterrupted panning
Adjustable height 
Shoot from sitting, standing or kneeling position
Rubber foot for extra stability and rigidity 
Very lightweight
Quick and simple to use
Specifications:
Minimum length: 885mm / 34.8"
Full extended length: 1860mm / 73.2"
Colour: Black
Weight: 410g
Accepted Payment options
- Visa
- Mastercard
- American Express
- Visa Debit
- Bank Deposit