Accu-Tech Nylon Cleaning Brush *Choose Calibre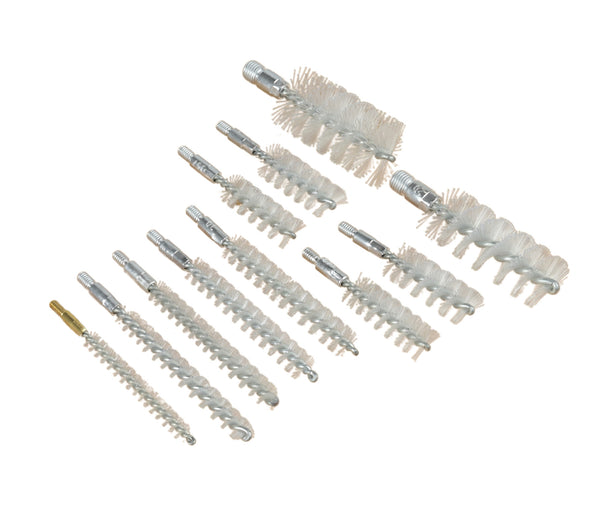 Accu-Tech proudly brings to you high quality, durable cleaning products, designed for the rigors of repeated use on your beloved rifles and shotguns. Make sure you treat your firearms right when it comes time to cleaning and maintenance, and use Accu-Tech.
Accu-Tech products are on par, if not better than other popular brands like Hoppes, Outers, and Gunslick at a better price!
Accu-tech nylon brushes are threaded 8-32 and are compatible with our line of cleaning rods
Choose from the following calibres: 
.17 / .177 - for use on .177 air rifles, 17 HM2, 17 HMR, 17 WSM, 17 Rem, 17 Hornet 
.22 / .223 - for use on .22 LR, 22 Magnum, 22 Hornet, .222, .223, 22-250, 220 Swift, 223 WSSM, 5.56 NATO calibres 
.243 / .6.5mm - for use on 240 Weatherby, 243, 243 WSSM, 6mm Rem, 6.5mmx55, 25-06, 257, 260 Rem, 6.5 Creedmoor calibres 
.270 / 7mm - for use on 270, 270 WSM, 280, 7mm-08, 7mm Magnum, 7mm STW, 7mm WSM and 7x75 calibres 
.30 / 7.62mm - for use on 30-06, 30-30, .300 ACC Blackout, .300 Win, 300 WSM, .303, .308, 7.62x25, 7.62x39, 7.62x57R, 7.65, 7.92, 8mm (8x57) calibres 
.45 - for use on 45/70, 45 Colt, 458 Winchester, 450 Rigby calibres 
.44  - for use on 44 magnum, 44 S&W, 44-40 calibres 
.40 - for use on 40 S&W, 10mm, 416 Ruger, 404 Jeffrey, 416 Rigby calibres 
.357 - for use on 357 magnum and 9mm calibres
20 Gauge - for use on 20 gauge
12 Gauge - for use on 12 gauge
Accepted Payment options
- Visa
- Mastercard
- American Express
- Visa Debit
- Bank Deposit