Bipod - Quick Detachable Extendable 9-13" Legs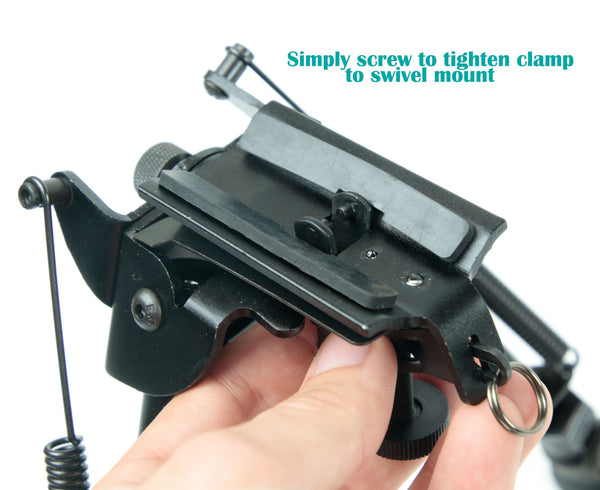 Accutech Rifle Mount Bi Pod 9-13" Pivoting
The Accutech Bi Pods clamp to any quick detachable sling swivel stud. They have strong recoil springs to prevent damage to the stock and maintain point of impact. Accutech Bi Pod legs are adjustable for height. Manufactured with heat treated steel and hard alloy with a black anodized finish.

At the bottom of each leg is a solid rubber foot.  It also has a swivel head which allows you to keep the cross hair level when shooting on the side of the hill or in undulating country.  Once you have used a bi-pod, especially one with the swivel head like this, you will always use one for the best accuracy. 
You won't find another bi pod this good for the price.
 - Unshakable prone and bench shooting
 - Lightweight
 - Reliable and strong Harris design
 - Spring return telescoping legs
 - Pivot eliminates rifle canting or uneven terrain
 - Easily attaches to sling swivel stud
 - Retractable legs easily extend from 9-13"
 - Adjustable legs pull down effortlessly from folded position
 - Weighs 425g

Great for use with popular rifle brands such as Ruger, Remington, Winchester, Sako, Tikka, Volquartsen, Marlin, Browning, Mossberg, Anschutz, CZ, Sauer, Howa and more!
Accepted Payment options
- Visa
- Mastercard
- American Express
- Visa Debit
- Bank Deposit