Buck Gardner Duck Call 'Tall Timber' Single Reed, Poly, Blue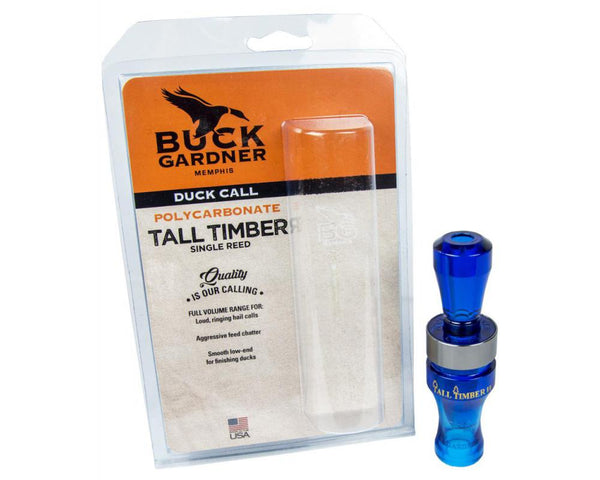 Buck Gardner Duck Call 'Tall Timber' Single Reed, Poly, Blue
Single Reed Acrylic Duck Call

Features:
• Wide tonal range over double reed
• Realistic sound
• Full volume range for loud, ringing hail calls
• Aggressive feed chatter
• Smooth low-end for finishing ducks.

A single reed polycarbonate call that was born in flooded green timber. The Tall Timber is made for barky hail calls and aggressive feeding chatter to grab their attention and coax ducks down through the trees.

To ensure quality and performance, Buck Gardner build, tune, and test each call one at a time by hand at their shop in Memphis, TN.
From Buck Gardner website: We stand behind our products 100% and all of our calls are backed by our Lifetime Warranty. This guarantee covers defects in materials, quality, and workmanship for as long as you own the call. We will repair or replace the call or its components at our discretion and get your call back in the field as fast as possible

Acrylic calls offer consistent density with excellent acoustic qualities. The harder surface composition gives the call a sharper resonating sound. The material comes in a variety colours and can easily be polished, making for very beautiful calls. Acrylic material is more expensive for manufacturers and requires precise machining processes, so it also makes for a more expensive finished product.
Single reed calls offer a broader range of volume and tone, but they typically require better air control and correct tongue pressure on the part of the caller. Simply put, a single reed call is more versatile but requires solid mechanics. Single reed calls can normally get louder than double reed calls can.

In a nut shell:
• Louder than double reed calls
• More tonal range
• Better for more experienced callers
Pro Tip:
Duck hunters benefit from using both single and double reed calls. Different hen mallards have different tones, so being able to vary the sound of your calling will play to your advantage – especially on pressured ducks.

The Spit-Tech technology is exclusive to BG calls. It enables the call to blow when wet from spit, condensation, and even accidental dips in the water. This technology is achieved through skillful hand tuning, custom fitting, and the testing of each call.
Accepted Payment options
- Visa
- Mastercard
- American Express
- Visa Debit
- Bank Deposit