Cold Steel Cleaver Knife - Commercial Series: 9"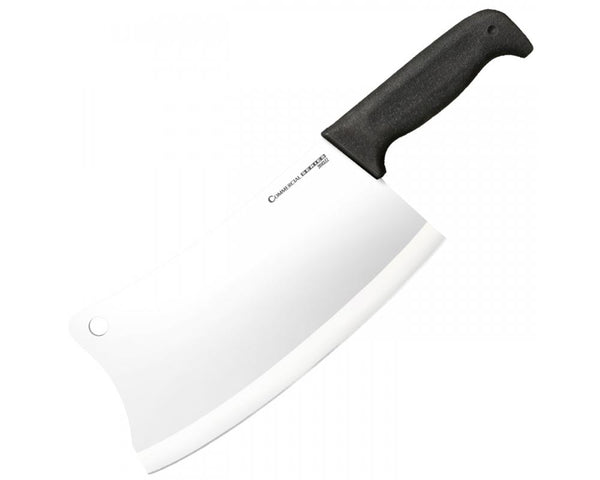 For decades now Cold Steel President Lynn C. Thompson has spent any of his rare "down time" traveling the world product testing while hunting and fishing. On these exotic excursions, he not only processes the game he kills (which is donated to local communities) but he spends all the time he can spare talking to every butcher, fisherman, hunter or chef he can find in a constant search for new ideas, information or "tricks of the trade".
Cold Steel's new Commercial Series is the culmination of all those years of accumulated knowledge. Lynn has developed a huge range of versatile blades for commercial users and professionals. From slaughterhouses and butchers, commercial kitchens and chefs to hunters and fishermen, there are blades for everyone! Each knife is made from razor sharp cryo-quenched German 4116 Steel, for ease of re-sharpening at work or in the field. Their handles feature a stiff Zy-Ex™ core on the inside for durability, with a softer, food-safe Kray-Ex™ exterior providing a comfortable non-slip grip for hours of use.
Specifications:
• Weight: 23.7 oz
• Thickness: 3.5mm
• Blade Length: 9"
• Handle: 4 3/4" Long Kray-Ex™
• Steel/Material:German 4116 Stainless Cryo Quenched
• Overall Length: 13.75"
Accepted Payment options
- Visa
- Mastercard
- American Express
- Visa Debit
- Bank Deposit