CRKT 'Chanceinhell' Machete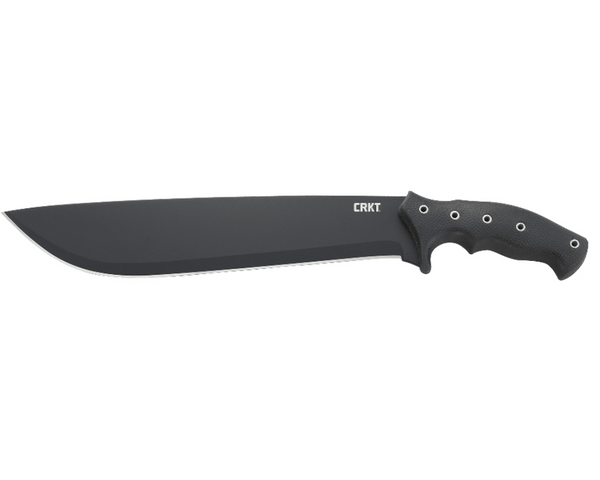 There are knives you see on survival shows. Then there's the real deal. With a generous sized blade, comfortable handle and reinforced nylon sheath this is the survival machete to use when the only thing you'll be cutting to is your destination.
The Chanceinhell™ is a beefy fixed blade survival machete designed by award-winning custom knife-maker Ken Onion of Kaneohe, HI to be tough, strong, and work like an ox. A thick, carbon steel blade has a black powder coat that is durable in extreme environments. Built for hard use, it's easy to sharpen after you've put the finishing touches on your handmade hotel in the woods.
Half the battle in any survival situation is with your own physical exhaustion. To combat that, the double injection molded handle is ergonomically designed to reduce hand fatigue and features multiple lanyard holes for varied grip options. The result is more efficient cutting action that'll make thick brush R.I.P.
This machete includes a reinforced nylon sheath with a unique velcro belt loop system that can be changed between two positions: dangling or snug against the belt. An extra paracord fob comes laced onto the sheath for emergencies or lashing this machete to a pack, truck, or pack mule.
The Chanceinhell™ is the knife to grab for ensuring your own survival or that of a few Hollywood actors who are in over their heads.
SPECIFICATIONS
Blade Length: 12" (304.8 mm)
Blade Edge: Plain
Blade Steel: 65Mn Carbon Steel
Blade Finish: Powder Coat
Blade Thickness: 0.1" (2.54 mm)
Overall Length: 17.88" (454.15 mm)
Weight: 1.25 lb (0.57 kg)
Handle: PP Core & TPR Overmold w/Textured Grip
Style: Fixed Blade Knife w/Sheath
Sheath Material: Nylon
Sheath Weight: 6.1 oz. (172.93g)
Accepted Payment options
- Visa
- Mastercard
- American Express
- Visa Debit
- Bank Deposit