CRKT Overland Folding Knife 3"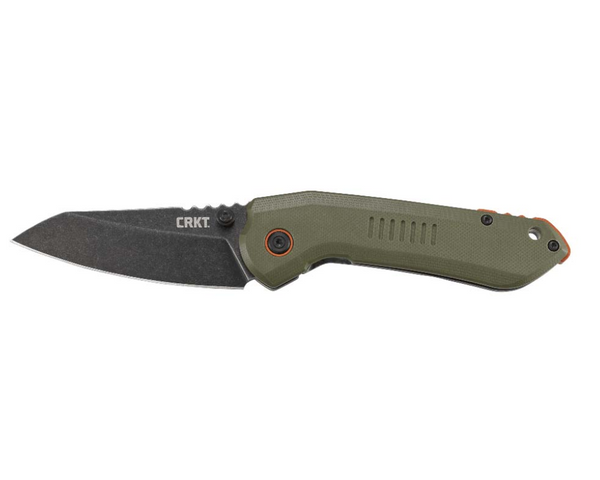 The knife version of a 4x4. Inspired by the aesthetic of the classic crawling vehicle, the CRKT Overland™ outdoor folding knife is crafted to go off road. No matter if your camp kitchen is on a flat rock miles from anywhere or a picnic bench in the park, this knife is perfectly suited for slicing the campfire-charred sirloin.
Designer TJ Schwarz has built himself a reputation on his knife designs that channel the soul of classic cars. From his shop in Boise, Idaho, TJ is at it again with the Overland™ that looks like it's perpetually about to shift into 4 low. The high-carbon, stainless steel blade features a stonewash finish for corrosion resistance so it'll withstand camp chef grime for meals on end. With a long, smooth sheepsfoot blade and an elevated G10 and stainless steel handle, it's perfectly crafted for preparing the main course with all the accoutrements. A simple locking liner is easy to clean and keeps the blade securely in place.
Bring along the knife that will always keep you locked in.
Features:
• High Carbon Stainless Steel Blade with a Stonewash Finish for Corrosion Resistance
• Elevated Handle in Relation to the Blade Conducive to Flat Surface Cutting
• Orange Anodized Pivot Ring and Backspacer Accents
Specifications:
• Blade Length: 3.00" (76.12 mm)
• Blade Edge: Plain
• Blade Steel: 8Cr13MoV
• Blade Finish: Stonewash
• Blade Thickness: 0.12" (3.07 mm)
• Overall Length: 7.38" (187.33 mm)
• Closed Length: 4.36" (110.67 mm)
• Weight: 3.60 oz. (102.06 g)
• Handle: Front - G10; back - 2Cr13 SS
• Style: Folding Knife w/Frame Lock
Accepted Payment options
- Visa
- Mastercard
- American Express
- Visa Debit
- Bank Deposit