Game On Feeding Frenzy Motion Decoy System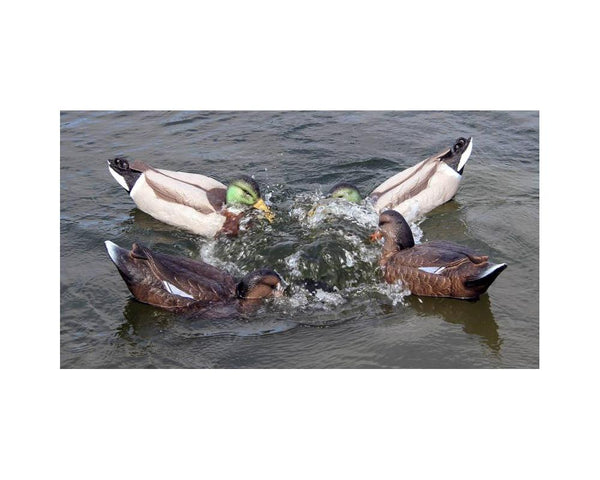 The Feeding Frenzy Motion Decoy System from Game On is specifically designed to simulate the motion of ducks feeding beneath the surface of the water. To use, simply attach four decoys (sold separately) and place in the desired location in your pond. The 30-foot cable ensures there is plenty of room for maneuver the remote switch on the shore while the powerful 12-volt, 200-watt motor (battery not included) pulls the decoys beneath the surface simulating the feeding motion. The strong ripples created as a result further enhances the realism and brings other passive decoys to life due to the water disturbance.

Bring your decoys to life with the Feeding Frenzy Decoy Motion System today!

Features:
• Sits under the surface, pulls decoys down to simulate feeding
• Huge water disturbance brings the rest of your passive decoys to life
• Automatic timer for realistic motion.

Includes:
• 12-volt, 200-watt DC motor and prop with a 30-foot cable, remote switch and Alligator clips for battery connection
• Metal decoy frame for attaching decoys.

NOTE: Decoys sold separately. Requires 12-volt battery (not included).
Check out our other listings for an awesome range of Duck Shooting Gear including, 16" and 20" Mallard Decoys, Paradise Decoys, Duck Callers, Hunting Blinds, Camo nets, Neoprene Waders, Muck Boots, Laydown Blind, motorised decoys, motion decoys, decoy bags and more!
Accepted Payment options
- Visa
- Mastercard
- American Express
- Visa Debit
- Bank Deposit