Garmin GPSMAP 67i GPS Handheld with inReach Satellite Technology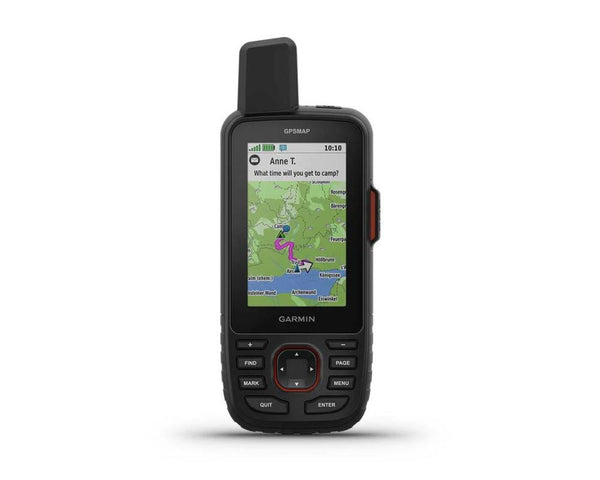 GO EXPLORE THE OUTDOORS - AND STAY CONNECTED TO HOME

Make more time for adventure with this premium, rugged GPS handheld and satellite communicator. Get inReach® technology that enables two-way messaging, interactive SOS alerts and location sharing plus mapping to keep you on course.

Key Features:


Travel longer with up to 165 hours of battery life in tracking mode and up to 425 hours in expedition mode.
Two-way messaging lets you share the moment with the ones who matter.
Let your loved ones follow your adventure with location tracking.
Have an emergency? Trigger an interactive SOS alert anytime, globally.
Track your position in challenging conditions with multi-band technology and expanded GNSS support.
Discover new favourite places.
MULTI-BAND GNSS SUPPORT: Access multiple global navigation satellite systems (GPS, Galileo and QZSS). Get access to multiple frequencies sent by navigation satellites for improved position accuracy in areas where GNSS signals are reflected, weak or typically don't penetrate.
ABC SENSORS: Navigate every trail with ABC sensors, including an altimeter for elevation data, barometer to monitor weather and 3-axis electronic compass.
SATELLITE IMAGERY: Download high-resolution photorealistic maps directly to your device via Wi-Fi

®

 technology. Easily find trails, pick stand locations and parking, create waypoints and more.
PRELOADED TOPO MAPS: Preloaded maps show you terrain contours, topographic elevations, summits, parks, coastlines, rivers, lakes and geographical points.
PREMIUM MAP FEATURES: With an Outdoor Maps+ subscription, you get public land information, landowner names, state plat maps, hunting management unit boundaries, BLM boundaries and more.
BATTERY LIFE: Turn on expedition mode, and get up to 425 hours of battery life while using inReach technology. In the default tracking mode, you get up to 165 hours of battery life, and your device will save your location every 10 minutes.
Keep in touch on the trail.
TWO-WAY MESSAGING: Exchange text messages with loved ones, post to social media, or communicate from inReach to inReach in the field.
INTERACTIVE SOS ALERTS: In case of emergency, trigger an interactive SOS message to the Garmin Response

SM

 centre, a 24/7-staffed professional emergency response coordination centre.
LOCATION SHARING: Track your location and share it with those at home or out in the field. They'll be able to see your progress or ping your device for your GPS location and more.
100% GLOBAL IRIDIUM

®

 SATELLITE NETWORK: Instead of relying on mobile phone coverage, now your messages, SOS alerts and tracking are transferred via the global Iridium satellite network.
GARMIN MESSENGER™ APP: Download the Garmin Messenger app to your compatible smartphone, and pair it with your GPSMAP

®

 67i handheld for fast, easy messaging and 24/7 SOS that's not limited to cellphone coverage areas. The app supports group messaging as well.
GARMIN EXPLORE™ APP: Plan, review and sync waypoints, routes and tracks by using the Garmin Explore app and website. You can even review completed activities while still in the field.
OPTIONAL INREACH WEATHER: Use inReach connectivity to get detailed weather updates on the GPSMAP 67i handheld. Request weather forecasts for your current location, waypoints or destinations on your route.
ACTIVE WEATHER: When connected to the Garmin Explore smartphone app , you can get real-time forecast information, so you're aware of the changing conditions.
Find your way for days.
BUILT FOR ADVENTURE: This handheld is built to military standards for thermal, shock and water performance (MIL-STD-810), and it's even compatible with night vision goggles.
LED FLASHLIGHT: The GPSMAP 67 series helps you keep gear to a minimum with a built-in LED flashlight that can be used as a beacon to signal for help.
GEOCACHING: Get automatic cache updates from Geocaching Live, including descriptions, logs and hints. When connected via Wi-Fi technology or to the Garmin Explore™ smartphone app, each find will upload to your Geocaching.com profile.

Specifications
General:
DIMENSIONS: 6.2 x 16.3 x 3.5 cm (2.5″ x 6.4″ x 1.4″)
DISPLAY SIZE: 3.8 x 6.3 cm (1.5″W x 2.5″H ); 7.6 cm diag (3″)
DISPLAY RESOLUTION: 240 x 400 pixels
DISPLAY TYPE: Transflective colour TFT
WEIGHT: 230 g with batteries
WATERPROOF: IPX7
BATTERY TYPE: Rechargeable, internal lithium-ion
BATTERY LIFE: Up to 165 hours with inReach® enabled with 10 minute tracking, up to 180 hours in GPS Mode, up to 425 hours in Expedition mode with inReach enabled Up to 425 hours in expedition mode
MIL-STD-810: Yes (thermal, shock, water); bare unit only
INTERFACE USB-C: Yes
MEMORY/HISTORY: 16 GB (user space varies based on included mapping)
MANUFACTURER CODE: 010-02812-02
Maps & Memory:
PRELOADED MAPS:  Yes (TopoActive Australia & New Zealand, routable)
ABILITY TO ADD MAPS: Yes    
BASEMAP: Yes    
AUTOMATIC ROUTING (TURN BY TURN ROUTING ON ROADS) FOR OUTDOOR ACTIVITIES: Yes    
MAP SEGMENTS: 15,000
SATELLITE IMAGERY: Yes (direct to device)
INCLUDES DETAILED HYDROGRAPHIC FEATURES (COASTLINES, LAKE/RIVER SHORELINES, WETLANDS AND PERENNIAL AND SEASONAL STREAMS): Yes    
INCLUDES SEARCHABLE POINTS OF INTERESTS (PARKS, CAMPGROUNDS, SCENIC LOOKOUTS AND PICNIC SITES): Yes    
DISPLAYS NATIONAL, STATE AND LOCAL PARKS, FORESTS, AND WILDERNESS AREAS: Yes    
EXTERNAL MEMORY STORAGE: Yes (32 GB max microSD™ card)
WAYPOINTS/FAVORITES/LOCATIONS: 10,000
COURSES: 250, 200 course points per course
TRACKS: 250
NAVIGATION TRACK LOG: 20,000 points, 250 saved gpx tracks, 300 saved fit activities
ACTIVITIES: Yes    
NAVIGATION ROUTES:    250, 250 points per route; 50 points auto routing
Sensors:
HIGH-SENSITIVITY RECEIVER: Yes    
GPS: Yes    
GALILEO: Yes    
QZSS: Yes    
BEIDOU: Yes    
IRNSS: Yes    
BAROMETRIC ALTIMETER: Yes    
COMPASS: Yes (tilt-compensated 3-axis)
GPS COMPASS (WHILE MOVING):    
MULTI-BAND FREQUENCY:    
Daily Smart Features:
CONNECT IQ™ (DOWNLOADABLE WATCH FACES, DATA FIELDS, WIDGETS AND APPS): Yes    
SMART NOTIFICATIONS ON HANDHELD: Yes    
VIRB® REMOTE: Yes    
PAIRS WITH GARMIN CONNECT™ MOBILE: Yes    
ACTIVE WEATHER: Yes     
Safety and Tracking Features:
Outdoor Recreation:
POINT-TO-POINT NAVIGATION: Yes    
TRACBACK®: Yes    
AREA CALCULATION: Yes    
HUNT/FISH CALENDAR: Yes    
SUN AND MOON INFORMATION: Yes    
XERO™ LOCATIONS: Yes    
GEOCACHING-FRIENDLY: Yes (Geocache Live)
CUSTOM MAPS COMPATIBLE: Yes (500 custom map tiles)
PICTURE VIEWER: Yes    
LED BEACON FLASHLIGHT: Yes    
inReach® Features:
INTERACTIVE SOS: Yes    
INREACH WEATHER: Yes    
SEND AND RECEIVE TEXT MESSAGES TO SMS AND EMAIL: Yes    
SEND AND RECEIVE TEXT MESSAGES TO OTHER INREACH DEVICE: Yes    
SEND AND RECEIVE GROUP MESSAGES: Yes    
EXCHANGE LOCATIONS WITH OTHER INREACH DEVICE: Yes    
MAPSHARE COMPATIBLE WITH TRACKING: Yes    
VIRTUAL KEYBOARD FOR CUSTOM MESSAGING: Yes    
SEND WAYPOINTS TO MAPSHARE DURING TRIP: Yes    
SEND ROUTE SELECTION TO MAPSHARE DURING TRIP: Yes    
Outdoor Applications:
COMPATIBLE WITH GARMIN EXPLORE™ APP: Yes    
GARMIN EXPLORE WEBSITE COMPATIBLE: Yes    
COMPATIBLE WITH GARMIN MESSENGER APP: Yes    
SMART SWITCHING BETWEEN WI-FI, MOBILE AND SATELLITE WITH GARMIN MESSENGER APP: Yes    
Connections:
CONNECTIONS WIRELESS CONNECTIVITY Yes (Wi-Fi®, Bluetooth®, ANT+®): Yes
Accepted Payment options
- Visa
- Mastercard
- American Express
- Visa Debit
- Bank Deposit