Garmin inReach Mini 2 Flame Red Marine Bundle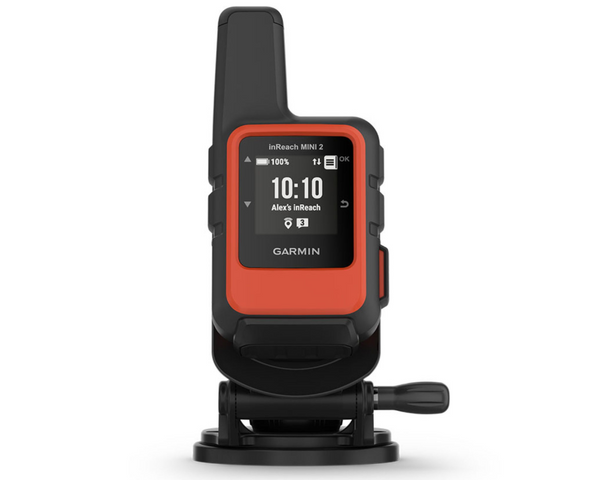 HOME IS CLOSER THAN YOU THINK.
This compact satellite communicator helps you keep home with you when you're off the grid — adding peace of mind to every adventure, without adding weight to your pack.
MARINE BUNDLE
The bundle includes a screw down mount and power cable, so you can mount your inReach device at your helm for easy access in a moment's notice.
Key Features:
• Global satellite coverage keeps you connected when cellphones can't
• In an emergency, send an interactive SOS message to our coordination center
• You can still connect to the ones who matter, even without cellphone coverage
• With TracBack® routing, find your way back if you happen to get lost
• Expand the capabilities of your inReach device by using the Garmin Explore™ app
• Stay on adventures longer with up to 14 days of battery life in 10-minute tracking mode
Stay in touch using inReach technology.
• TWO-WAY MESSAGING. 
• INTERACTIVE SOS ALERTS.
• LOCATION SHARING.
• GLOBAL SATELLITE NETWORK.
• FLEXIBLE SATELLITE AIRTIME PLANS.
• COMPACT, RUGGED DESIGN. 
Your adventure-ready companion.
• TRACBACK ROUTING. 
• DIGITAL COMPASS. 
• BATTERY LIFE. 
• INREACH WEATHER FORECAST SERVICE. 
• UNLIMITED CLOUD STORAGE AND TRIP PLANNING.
Connect to more capabilities.
• GARMIN EXPLORE APP. 
• OTHER GARMIN DEVICES
• GARMIN PILOT™ APP. 
Specifications:
• DIMENSIONS: 2.04" x 3.90" x 1.03" (5.17 x 9.90 x 2.61 cm)
• DISPLAY SIZE: 0.9" x 0.9" (23 x 23 mm)
• DISPLAY RESOLUTION: 176 x 176 pixels
• DISPLAY TYPE: sunlight-readable, monochrome, transflective memory-in-pixel (MIP)
• WEIGHT: 3.5 oz (100.0 g)
• BATTERY TYPE: Rechargeable internal lithium-ion
BATTERY LIFE:    
Up to 14 days at 10-minute tracking send interval with standard activity recording with full sky view
Up to 4 days with moderate tree cover (default)
Up to 5 days at 10-minute tracking send interval with high detail activity recording with full sky view
Up to 2 days with moderate tree cover
Up to 30 days at 30-minute tracking send interval with standard activity recording with full sky view
Up to 10 days with moderate tree cover
Up to 1 year when powered off
• WATERPROOF: IPX7
• INTERFACE: USB-C
Maps & Memory
• WAYPOINTS/FAVORITES/LOCATIONS: 1000
• COURSES: 100
• ACTIVITIES: 200
Sensors
• HIGH-SENSITIVITY RECEIVER: yes    
• GPS: yes    
• GALILEO: yes    
• QZSS: yes    
• COMPASS: yes    
• GPS COMPASS (WHILE MOVING): yes    
Daily Smart Features
• WEATHER: yes    
• POINT-TO-POINT NAVIGATION: yes    
inReach® Features
• INTERACTIVE SOS: yes    
• SEND AND RECEIVE TEXT MESSAGES TO SMS AND EMAIL: yes    
• SEND AND RECEIVE TEXT MESSAGES TO OTHER INREACH DEVICE: yes    
• EXCHANGE LOCATIONS WITH OTHER INREACH DEVICE: yes    
• MAPSHARE COMPATIBLE WITH TRACKING: yes    
• VIRTUAL KEYBOARD FOR CUSTOM MESSAGING: yes    
• INREACH REMOTE COMPATIBLE: yes    
Outdoor Applications
• COMPATIBLE WITH GARMIN EXPLORE™ APP: yes    
• GARMIN EXPLORE WEBSITE COMPATIBLE: yes    
• GARMIN PILOT™ APP COMPATIBLE: yes    
Connections
• CONNECTIONS WIRELESS CONNECTIVITY: yes (BLUETOOTH®, ANT+®)
Accepted Payment options
- Visa
- Mastercard
- American Express
- Visa Debit
- Bank Deposit