Harris Bipod Mod 1A2 BRM, Fixed, 6" - 9", stud mount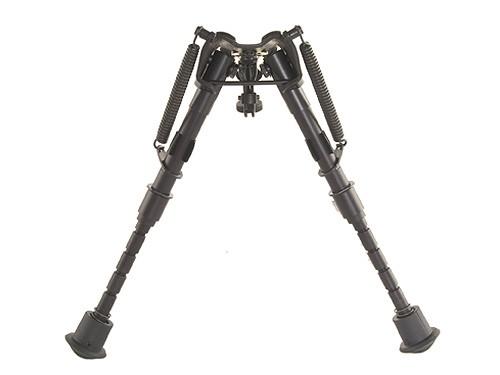 Harris Ultra-light Bipod Model 1A2-BRM, Fixed base, Folding notched legs extend from 6" to 9", sling stud mount.
You would have to say that Harris Bi-pods are probably the best bi-pods available to the sporting shooter today.  The bi-pods are quick detachable and clamp to the QD stud of most bolt action rifles of conventional stock design.  They will fit some single shot rifles and pistols and others with proper adapters which Harris also manufacture.  Harris bi-pods are not suitable for all firearms. 
The Bi-pod pictured is the BRM model which is the lowest of the bi-pods and probably most useful for shooting off a bench, which would give you a height of between 6" and 9".  This version also has the notched legs, which means on uneven ground you're able to pull the leg out ½" at a time, improving the stability and sight picture.
We keep a good supply in stock and adapters are readily available.  So please don't hesitate to contact us if we can be of any further help.
Specifications:
Man#: 1A2-BRM
Legs Extend from 6" to 9"
Notched Legs
Overall Weight 283 Grams
Matte Black Anodized Finish
Hard Rubber Leg Caps
Aluminum Bi-pod with Steel Parts
Includes sling point
Attaches to a Sling Swivel Stud
Accepted Payment options
- Visa
- Mastercard
- American Express
- Visa Debit
- Bank Deposit