Trailcam HD Game Camera 24MP/1080P 4G Plus Free SD Card and Batteries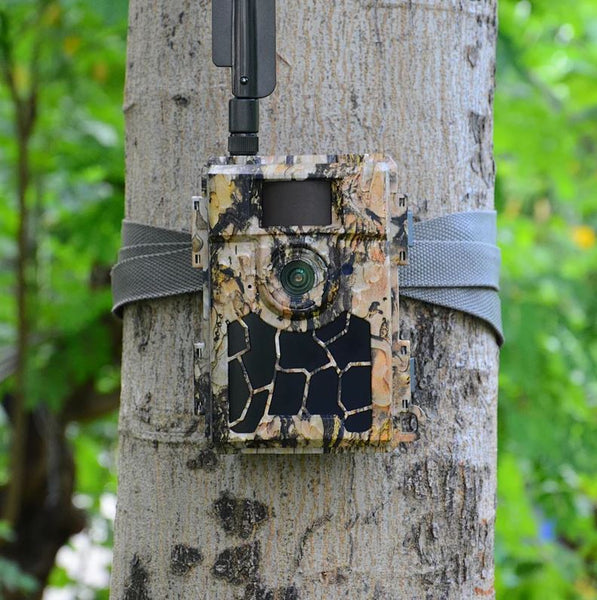 With a quick shutter speed of 0.4 seconds, the TrailCam HD Game Camera will capture any movement in real time, meaning you will not miss any detail from the surprising spectacle of wildlife. Equipped with a 58 ° angle lens and a 52 ° PIR angle, you will get maximum 24MP photos with amazing clarity. Other key features: consecutive photos taken at a speed of 1 photo / second, maximum 5 photos, adjustable PIR sensitivity, programmable delay between movements, label on the picture, etc.
With automatic IR filter and 60 940nm no-glow IR LEDs, the TrailCam HD Game Camera emits in low light conditions an invisible light spectrum for humans and most animals, thus ensuring the camera, perfect camouflage and a visibility distance of up to 20 meters at night.
The TrailCam HD Game Camera is compatible with 4G network which ensures fast data transfer. The camera automatically connects to the network after inserting the SIM and displays the signal strength on the screen through a bar indicator. For the image sending process to work properly, the signal strength must have at least two bars. And with 1920P HD video and clear sound recording, everything you capture is of high quality and you can more easily see the vivid wildlife world.
This game/trail camera features a waterproof and dustproof camouflage design, and with it's technology it can be the perfect tool for monitoring areas where a stable power source or an Internet router is not accessible. Therefore, the camera can be powered by batteries (8 AA batteries) or from an external 12V battery and must include a SIM with active data. Under these conditions, tis makes it suitable for hunting and to observe animals and plants. It can also be used for home security, property surveillance, scouting farm and warehouse security and more.
Smaller in weight and appearance, the TrailCam HD Game Camera provides a new vision experience and will show you a different world of wildlife. You can install the TrailCam HD Game Camera in any place and it would not be easily found.
Features:
High trigger speed: 0.4 seconds
Send images and videos direct to your mobile 4G
Day and night vision
58 FOV lens; 52 PIR angle
24MP/1080P @ 30 FPS
Programmable 8/12/24 MP high quality resolution
64x invisible Infra red night vision LEDs, offers 20 meters (65) real night vision distance
Crystal clear day and night photo/video quality
1 photo burst per second to get full moving track of object
Support multiple functions - adjustable PIR sensitivity, multi-shot (1-5 photos per trigger), programmable delay between motions, time lapse, timer, stamp of camera ID, date/time, temperature and moon phase on every photo
Built in 2.4" TFT colour screen
Tough waterproof case
With MMS/4G/SMTP/FTP function, the camera can transmit photos to 1-4 preset mobile phones, 1-4 email addresses and FTP account per trigger 
SMS to control various remote configurations
SMS to enable the camera to shoot a photo and send back instantly
Optional small size (640x480) and large size (1920x1440) photos, and 8/12/24MP email/FTP photos
APP available on iOS and Android 
Specifications:
Image Sensor: 5 MP colour CMOS
Effective Pixels: 2560x1920
Day/Night mode: Yes
 IR Range: 20m
IR Setting: 60pcs LED, 940nm-IR LED
Memory: SD card (4GB to 32GB)
Operating Keys: 7
Lens: F=3.0; FOV=58; Auto IR-cut-remove (at night)
PIR Angle: 52
LCD Screen: 2.4" TFT, RGB, 262k
PIR Distance: 20m (65 feet)
Picture Size: 8MP 3264x2448 / 12MP 4032x3024 / 24MP 5632x4224
Picture Format: JPEG
Video Resolution: FHD (1920x1080), HD (1280x720), WVGA (848x480)
Video Format: MOV
Video Length: 5-10 secs, programmable for wireless transmission; 5-59 secs, not programmable for wireless transmission
Shooting Numbers: 1-5
Trigger Time: 04s
Trigger Interval: 4s-7s
Camera + Video: Yes
Time Lapse: Yes
Operation Power: Battery - 12V; DC - 12V
Battery Type: 8 AA
External DC: 12V
Stand-by Time: 6 months 
Auto Power Off: In test mode, camera will automatically power off in 3 minutes if there is no keypad touching
Interface: USB/SD Card/DC Port
Mounting: Strap (included), tripod (not included)
Operating Temperature: -25 to 60
Operation Humidity: 5% to 90%
Waterproof: IP66
Dimensions: 128 x 96 x 76mm
Weight: 260g
Included:
Trail/Game camera
Instruction manual
USB cable
Mounting strap
Antenna
Accepted Payment options
- Visa
- Mastercard
- American Express
- Visa Debit
- Bank Deposit