Klarus A2 Pro Rechargeable Torch *1450 Lumens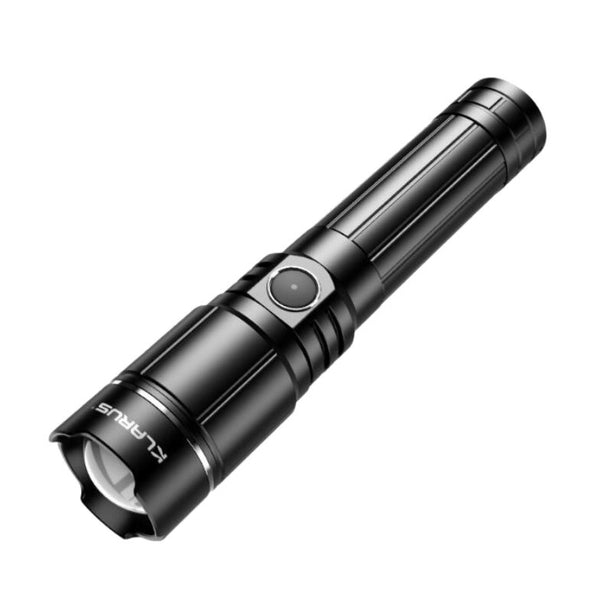 The Klarus A2 Pro USB-C Rechargeable Focus Adjustable LED Flashlight is the perfect Flashlight for those wanting ultimate control over their light source. The A2 uses a sliding adjustment zoom function, allowing you to either create a focused beam for spotlighting by zooming in or illuminate a wide area with flood lighting by zooming out. It also allows you to set your flashlight at points in between spotlighting and flood lighting, giving you the perfect amount of light under any circumstances.
All 4 lighting modes are easily accessible, allowing you to have the desired amount of visibility in any situation, whether its hiking, a walk through the city, or doing general home maintenance. For even greater convenience, this product uses Mode Memory. The One-Touch feature will memorize the last mode which you used the flashlight in so that when you turn it back on, it will automatically enter the mode it was in before shutting off.
The A2 uses a 4000mAh 21700 lithium-ion battery with PCB and automatic shut-off protection. The A2 is also compatible with 18650 and AAA batteries as well. These features pair incredibly well with the flashlight's LED, which is designed to reduce its energy consumption while still outputting a higher amount of lumens for this product's size. This then gives it a theoretical stable lifetime of up to 100,000 hours.
Specifications
LEDs   Luminus SST-20
Max Throw   420 Metres
Peak Intensity   44000
IP Rating   IPX4
Drop Resistance   1m
Switch   Body
Material   Aluminium Alloy
In The Box
Klarus A2 Pro USB-C Rechargeable Focus Adjustable LED Flashlight
4000mAh 21700 Lithium-ion Battery
Charging Cord
Lanyard
O Ring
AAA Battery Holder
18650 Battery Adapter
Accepted Payment options
- Visa
- Mastercard
- American Express
- Visa Debit
- Bank Deposit