Klarus CL2 Lantern & Powerbank | 750Lms & 10400mAH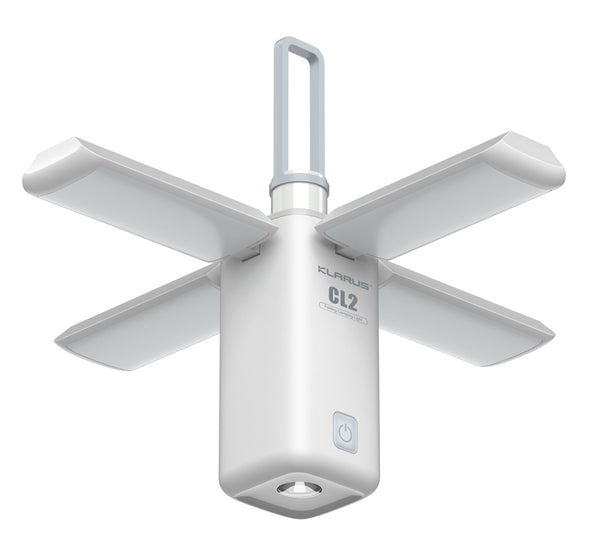 CL2 Waterproof, Rechargeable 750 Lumen Camping Lantern
The Klarus CL2 is equipped with outputs and features that make it one versatile light! With a distinct, free-folding design, the CL2 can be used as a lantern or flashlight. This provides 360 degrees of illumination, allowing you to light up your entire campsite with ease. Its small size makes it the ideal camping companion and go to light source.
The CL2 has an integrated 10400mAH battery pack, for power that doesn't have to be replaced. Easily recharge via USB-C, for fast, reliable energy that gets you right back outside. The lantern also functions as a power bank, to keep your favorite devices powered on in an emergency. Power bank functionality is compatible with either USB-C or lightning cords, for a wider range of use!
Klarus CL2 has 7 light modes:
Light                              Mode                  Lumens              Run Time
White LED                         -                       750 Lm                4.75 h
White Cold/Warm Light   Max                    750 Lm                4.75 h
White Warm Light         Medium                150 Lm                 12 h
White Warm Light            Min                     30 Lm                  60 h
 -                                     SOS                    100 Lm                 18 h
Bottom LED                 Flashlight               100 Lm                 18 h
Red LED                     Red Flashing          100 Lm                 18 h
Features:
Can provide 360° of illumination
10400mAh Rechargeable lithium-ion battery: Battery capacity allows you to charge your Phone multiple times. 
IPX5 waterproof & 1 m impact resistance tested
Max 60 hours runtime: The Klarus CL2  is rated to last up to 60 hours, perfect for all indoor and outdoor scenarios you can think of. 
4x 90° foldable light bulbs: Has 90° unlimited adjustment, for positioning that can match your needs
Battery level and charging indicators let you know when the light is ready to use
Hanging loop design offers more mounting and area light options
Dimensions: 50.8 x 55.9 x 222 mm
Weight: 420 g
Comes with...
Klarus CL2 LED Lantern
USB-C Charging Cable
C-L Adapter
Carrying Pouch
User Manual
Accepted Payment options
- Visa
- Mastercard
- American Express
- Visa Debit
- Bank Deposit