Klarus CL3 Rechargeable Lantern *280 Lumens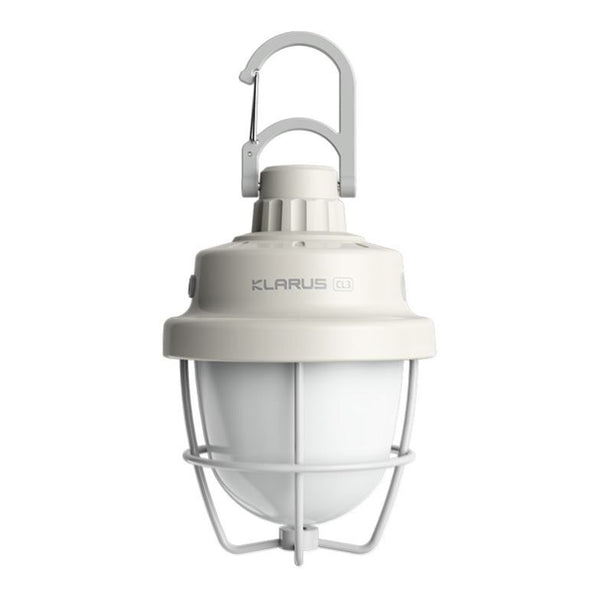 From Backyard Parties to Camping Trips and More! No matter the occasion, the Klarus CL3 was built for convenience. Utilizing a color temperature range between 4000K and 1300K, the CL3's 4 brightness modes offer multi-use capabilities for use whether in the backyard or camping off the grid. This light outputs a max of 280 lumens, ensuring your entire group has more than enough brightness for nighttime activities. Special Pulse Mode activation outputs a 1300K orange color temperature with light cycling that naturally relaxes your body and mind, equipped with a 20-minute auto-shutoff to boot.
Mount and carry the CL3 via the magnetic top, metal hook, and even a 1/4-inch threaded hole for placing on a tripod. With three unique ways to mount, the CL3 has an exceptional user-friendly design that fully supports your outdoor adventure or backyard bash. Coupled with a push button side switch, this light is easy to operate.
The CL3 is built with an internal 2,600mAh 18650 battery pack which can be easily recharged via an in-body USB-C port. This battery pack supports runtimes of up to 13 hours on its lowest setting, so your lantern light can always uphold ambient illumination.
Specifications & Features:
Modes: Four settings – 1300K orange light (50 lumens, 13 hours), 2700K warm light (110 lumens, 10 hours), 4000K white light (280 lumens, 5 hours), and 1300K pulse mode
Produces 3 colour temperatures, and 4 brightness settings, catering to diverse lighting needs.
Type-C rechargeable
Low power consumption, ensuring long-lasting performance.
IPX5 Waterproof and shockproof
Carabiner-style hook attachment for hanging
Magnetic top to attach to metal surfaces
Easy operation with one push button
Pulse mode design for sleep assistance and relaxation, coupled with a 20-minute auto-shutoff
LED: 6x 5730 LEDs and 12x 2835 LEDs
Performance: Max 280 lumens, illuminates up to 153.94 sqm
Charging: USB Type-C charging (4.2 hours)
Battery Life: Equipped with a 18650 battery (3.7V 2600mAh)
Lightweight: weighs only 201.5g
Size: 83.9mm x 161.1mm
Accepted Payment options
- Visa
- Mastercard
- American Express
- Visa Debit
- Bank Deposit